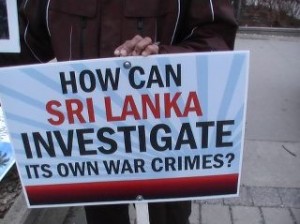 GENEVA, Nov 1 (Reuters) – Western countries kept up pressure on Sri Lanka on Thursday to prosecute killings of civilians and other crimes committed in its 30-year civil war and to investigate continuing grave violations. Britain and the United States said that accountability must be established for serious breaches in the conflict that ended in 2009 and they voiced concern at the latest attacks on journalists, activists and lawyers.
Sri Lanka was in the dock at the United Nations Human Rights Council, a Geneva-based forum that regularly examines the records of all U.N. member states and issues recommendations.
U.S. ambassador Eileen Chamberlain Donahoe said Sri Lanka must "end impunity for human rights violations and fulfil legal obligations regarding accountability by initiating independent and transparent investigations…into alleged violations of international law and hold those found culpable to account". "Former conflict zones remain militarised and the military continues to encroach upon daily civilian and economic affairs," she said, while torture, extra-judicial killings, disappearances, and threats to freedom of expression persist.
British ambassador Karen Pearce said there should be no impunity for attacks on journalists, rights defenders and lawyers "nor reprisals against any individual including for cooperating with U.N. mechanisms".
International investigators, whose findings have been rejected by the Sri Lankan authorities, have said the army committed large-scale abuses and was responsible for many civilian deaths in the final stages of the war against Tamil Tiger rebels.
Mahinda Samarasinghe, special envoy of President Mahinda Rajapaksa on human rights, defended his government's record and work of the Lessons Learnt and Reconciliation Commission (LLRC).
"Protection of civilian life was a key factor in the formulation of government policy for carrying out military operations and the deliberate targeting of civilians formed no part of that strategy," Samarasinghe told the U.N. forum. "If reliable evidence is available in respect of any contravention of the law, the domestic legal process will be set in motion," he said.
A court of inquiry is investigating more than 50 incidents referred to in the LLRC report issued a year ago, he said. "Investigations cover whether or not any attacks were carried out by the Army on civilians, on hospitals or in the no-fire zones," he said.
The government was probing thousands of cases of missing persons. "Outstanding allegations must and will be thoroughly investigated and any offenders brought to book," he said.
Former combatants, including Tamil child soldiers, have been rehabilitated and reintegrated into society, while demining of farm land continued, Samarasinghe said. "If this is not clear progress, I fail to understand what is," he said.
Referring to attacks on activists, he said: "I must state with the utmost firmness that these alleged attacks are no part of government policy to stifle criticism, activism or dissent".
A Geneva-based body that monitors legal matters, the International Commission of Jurists (ICJ), said earlier on Thursday that Sri Lanka's government had made it all but impossible for victims of rights abuses to get justice. [ID:nL5E8LVHFI]
President Rajapaksa's ruling party moved a motion in parliament on Thursday to impeach the chief justice for violating the constitution, signalling a deepening rift between the government and the judiciary. [ID:nL3E8M11RV]
U.S. ambassador Donahoe said that especially in light of the news of the efforts to impeach Chief Justice Shirani Bandaranayake, Sri Lanka must "strengthen judicial independence by ending government interference with the judicial process".
(Reporting by Stephanie Nebehay; Editing by Stephen Powell)