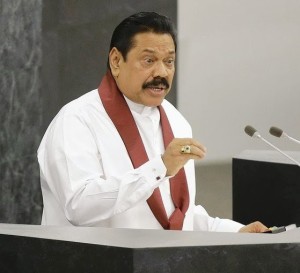 Mahinda Rajapaksa, the president of Sri Lanka, delivers his speech at the U.N. General Assembly in New York. In an interview later at his hotel, he deflected criticism of his government's rights record and said the U.N. and Western powers seemed bent on harassing Sri Lanka. (Seth Wenig / Associated Press / September 27, 2013)
Mahinda Rajapaksa, under fire over human rights in Sri Lanka, says at the U.N. General Assembly that the U.N. is being manipulated.
Shashank Bengali
UNITED NATIONS — From Moammar Kadafi's baffling fantasies to Mahmoud Ahmadinejad's room-emptying rants, almost every confab of world leaders at the annual United Nations General Assembly includes speeches that make people squirm in their chairs.
With the Libyan leader deposed and dead and the former Iranian president retired — and Sudan's Omar Hassan Ahmed Bashir, charged with committing war crimes in the Darfur region, staying away — one of the most awkward moments this year came when the president of tiny Sri Lanka, Mahinda Rajapaksa, used his speech Tuesday to bash the U.N. itself.
The world body has repeatedly chastised Rajapaksa, culminating in charges by its chief human rights official this week that he was turning his island nation, just four years removed from a three-decade insurgency, into a dictatorship.
The State Department's most recent human rights report blamed Rajapaksa's government for concentrating power in the hands of family members, bullying activists and journalists, incapacitating the judiciary and repressing minority Tamils, the ethnic group that launched the war. A 2011 U.N. report cited evidence that Sri Lanka's military had killed as many as 40,000 civilians, mostly Tamils, in the closing months of the conflict.
Rajapaksa has denied wrongdoing and accused critics of meddling in his country's affairs. At the podium Tuesday, he suggested that the U.N. was the victim of "manipulation" by foreign agendas and blasted "the growing trend in the international arena of interference by some in the internal matters of developing countries, in the guise of … human rights."
In an interview in his suite at New York's Waldorf Astoria hotel, Rajapaksa deflected criticism of his government's rights record and said the U.N. and Western powers seemed bent on harassing Sri Lanka.
"We are a small country, an easy target," he said.
Asked about human rights groups and others who accuse him of abusing power, he became angry, saying, "Who elected them?"
Rajapaksa has kept up a busy diplomatic schedule in New York, shuttling between meetings with the leaders of Pakistan, New Zealand and other nations. But if he returns to the U.N. General Assembly next year, he may face a more uncomfortable reception.
U.N. High Commissioner for Human Rights Navi Pillay demanded this week that the Sri Lankan leader take significant steps to investigate allegations of war crimes by military officers and government officials. If the government in Colombo fails to do so within six months, Pillay said, she would launch an international inquiry, something Rajapaksa strongly opposes.
"President Rajapaksa's hope is to fool everyone and rewrite history," said John Sifton, Asia director for Human Rights Watch. "He is not going to succeed."
In the interview, Rajapaksa played up his achievements. His government ended the insurgency by Tamil Tiger separatists, improved healthcare and the economy, and this month held the first regional elections in 25 years in the war-ravaged north, the seat of the insurgency.
But international monitors found that candidates and supporters of the opposition Tamil National Alliance faced intimidation by the army, which maintains a huge presence in the north. Men in military uniforms attacked the home of a female opposition candidate days before the vote, although army officials denied involvement.
Meanwhile, Sudan's strongman might never make it back to New York, despite saying for days that he would attend the General Assembly and even booking a hotel room.
Last week, U.S. officials confirmed that Bashir, who faces an outstanding arrest warrant from the International Criminal Court, had applied for a visa. The Sudanese Foreign Ministry issued a statement pointing out, almost gleefully, that the United States as host nation "does not have the legal right to object to the participation of any official from a full member state in the international organization in U.N. activities."
The legal argument was correct, presenting a dilemma for the United States, which isn't a party to the ICC but has backed efforts to prosecute Bashir on charges of genocide and other crimes in Sudan's Darfur region.
Still, Samantha Power, the U.S. ambassador to the U.N. and a longtime anti-genocide campaigner, pointedly suggested that Bashir should "present himself to the ICC and travel to The Hague" rather than New York.
In the end, U.N. officials said Bashir would not come to New York but gave no details.
[email protected]
LAT
——–
Mahinda Rajapaksa, the president of Sri Lanka, delivers his speech at the U.N. General Assembly in New York. In an interview later at his hotel, he deflected criticism of his government's rights record and said the U.N. and Western powers seemed bent on harassing Sri Lanka. (Seth Wenig / Associated Press / September 27, 2013)