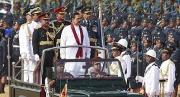 (Reuters) – Sri Lanka's President Mahinda Rajapaksa has ordered the early release from jail of his highest-profile political rival Sarath Fonseka, the president's spokesman said on Sunday, in an apparent bid to quell international criticism of the government's human rights record.
The authorisation for Fonseka's release will be sent to the justice ministry on Monday, spokesman Bandula Jayasekara said. The former general is expected to be free soon afterwards, but will not be able to leave the country.
"(The) president signed the papers on Friday evening enabling the release of Sarath Fonseka," Jayasekara said.
The United States calls former army general Fonseka, who was detained in February 2010 after challenging Rajapaksa for the presidency, a political prisoner, and has repeatedly said he should be freed.
Many Sri Lankans regard Fonseka as a hero for helping to end the 25-year civil war against the Tamil Tiger rebels, and his case has gained prominence as international scrutiny of the Rajapaksa administration's human rights record has intensified.
At a meeting in Washington on Friday, Secretary of State Hillary Clinton called on Sri Lanka's foreign minister to address human rights issues.
In March, the U.S. sponsored a United Nations resolution calling on the Colombo to investigate abuses alleged to have taken place in the final months of the war, a move which strained ties between the countries.
Rajapaksa has until now defied the U.N. and U.S. criticism of his handling of the war's aftermath. Local analysts says Fonseka's release is partly aimed at distracting from local complaints about poor economic management.
Last week, news of his impending liberation was welcomed by investors who hoped it would improve Sri Lanka's international image, and prompt more foreign inflows.
His health has deteriorated in prison, and for the last few weeks he has been under guard in a hospital where he is being treated for respiratory problems stemming from war wounds.

POPULAR LEADER
Economic woes pushing up the cost of living have dented the government's popularity ahead of local elections this year, and Rajapaksa's decision could increase his party's chances by dividing the bickering opposition.
Fonseka leads the Democratic National Alliance, which has seven seats in a 225-member legislature, and some lawmakers from other opposition parties have said they are ready to back him, citing his popularity and strident criticism of Rajapaksa.
He trailed Rajapaksa by 17 points in the last presidential election. With the next one not due until 2016, he is not seen as an immediate political threat, although he remains a popular leader. His poor health has increased pressure on Rajapaksa to set him free.
In Washington on Friday, Clinton told foreign minister G.L. Peiris that Sri Lanka should demilitarise the former Tiger strongholds in the north of the country. Rajapaksa responded by saying he would not be dictated to on matters of national security.
Fonseka and the president's brother, Defense Secretary Gotabaya Rajapaksa, led the army to victory in the final stages of the war, but they fell out in peacetime. The general complained he was sidelined by the president, who grew concerned Fonseka was plotting a coup.
Fonseka is serving two separate jail terms, one for misappropriation of funds and another for giving an interview in 2009 in which he said he was informed that Gotabaya Rajapaksa ordered troops to kill surrendering rebel leaders.
Rights groups say both Fonseka and the president are implicated in shooting Tamil fighters as they sought to surrender. In recent months, rights workers and journalists have been targeted by a government media campaign against "traitors" it says helped the defeated guerrillas.
(Writing by Frank Jack Daniel; Editing by Daniel Magnowski)
By Shihar Aneez and Ranga Sirilal
Reuters