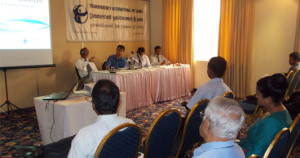 press
Transparency International Sri Lanka's Election Monitoring arm, 'The Programme for Protection of Public Resources (PPPR)' has recommended that an Election Judge should be appointed to investigate into election violations and malpractices with special focus on the misuse of public resources. As for offences against public property, presently only the Attorney General can go to courts on the misuse of public resources. This should be revised to entertain private plaints.

PPPR has said Elections Commissioner should be vested with the power to recover the cost of abuse from errant candidates and other relevant parties immediately.
PPPR launched its final report on Provincial Council Election held in September 2013 at the Renuka Hotel Colombo on 23rd December 2013 amidst a gathering including professionals, media personnel and activists.
Elaborating further, it has been recommended to amend the election law to make it mandatory to hand over assets and liability declarations of candidates on or before the handing over of nominations. Failure to comply should result in the rejection of the nomination. Any misrepresentation of the declaration should result in the disqualification of the candidate and/or seat if elected.
PPPR recommends that the all Provincial elections should be held on the same date in order reduce excessive expenses incurred due to sporadic election schedules.
Other recommendations PPPR has suggested are as follows.
(a). Public resources should not be used for election campaigning purposes with or without payments as it disrupts public life and create an unfair advantage towards those with power and influence.
(b). Introduce mechanisms to make all Heads of government institutions accountable for all movable and immovable public assets under the supervision of the Election Commissioner.
(c). All public assets should be easily identifiable by the public. The official government logo should be visible on the body of all government vehicles with the exception of assigned vehicles. Rented vehicles should also carry the government logo for identification purposes.
(d). All public assets allocated to Chief Ministers, Provincial Ministers and members of Provincial Councils to be handed over immediately after the dissolution of the Provincial Council.
(e). Elected persons should not engage in political campaigns using public resources.
(f). Public ceremonies highlighting the success of development programs should not be encouraged and attended by the Head of State during the campaigning period.
(g). Public sector appointments, transfers and promotions should not be done without the permission of the Elections Commissioner.
(h). Electioneering by public officials on duty should be made a punishable offence under the criminal law.
(i). Strengthen the election law by incorporating regulations that makes it mandatory for the Party Secretary or the leader(s) of the independent group(s) to declare campaign expenditure and sources of funding to ensure the transparency of election financing. Introduce campaign expenditure ceiling based on the electorate and number of voters.
(j). Election law to be amended to accommodate election monitors in the ballot counting process.
(k). Promote the usage of transparent ballot boxes
TISL