Police used tear gas and water canon to disperse a protest march by unemployed graduates at the Lotus Roundabout yesterday as the protesters went past the Fort Railway Station in defiance of a court order.
The protest march was originally scheduled to end at the Prime Minister's office after handing over a statement to the PM's secretary.
Convener of the Combined Union of Unemployed Graduates, Dhammika Munasinghe, said that their march from the Technical Junction was scheduled to end at the PM's office, but police had blocked it at the Lotus roundabout.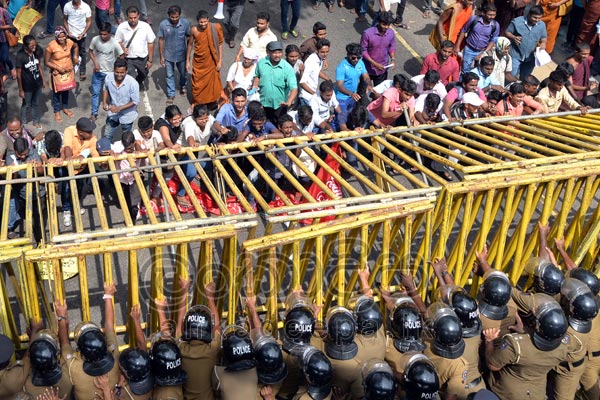 There was traffic chaos in Fort and surrounding areas due to the march.
Munasinghe said they had organised the protest march as the government had reneged on its promise to provide them with jobs.
"This time, too, the government took us for a ride and arrested three of our members after blocking our way," he said, adding that police had informed them of the court decision only at the Lotus roundabout.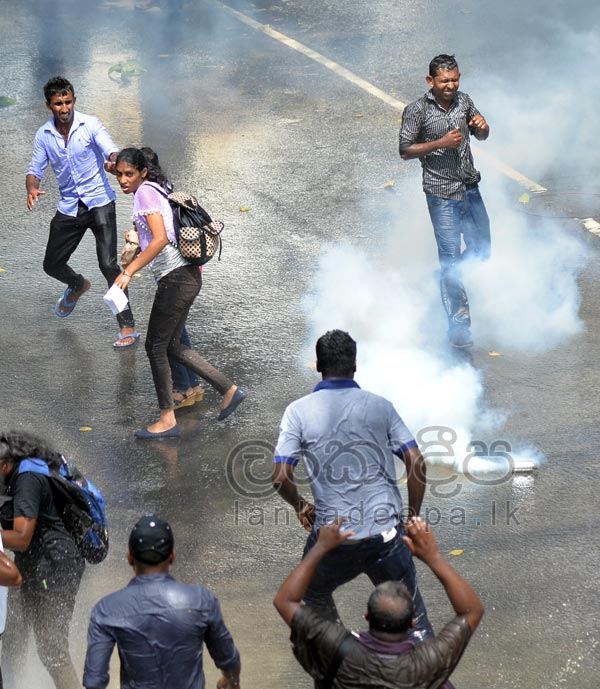 Munasinghe alleged that three of their members and three journalists had been injured in the police attack.
Director of the National Hospital Dr. Anil Jasinghe said that two female unemployed graduates and one journalist had received OPD treatment. "No one was admitted to hospital. They had suffered minor injuries."
Police spokesman ASP Ruwan Gunasekera said the protest march by the unemployed graduates had proceeded beyond the Fort Railway Station in violation of a court order and, therefore, the police had been compelled to intervene.
The ASP claimed that the police had informed the protesters in advance that there was a court order banning them from going beyond the station.
Three protesting graduates had been arrested by the Fort Police for violating the court order and unruly behaviour, ASP Gunasekera said.
He said the Fort Magistrate had released them on surety bail of Rs. 100,000 each yesterday afternoon.
by Dasun Edirisinghe
The Island