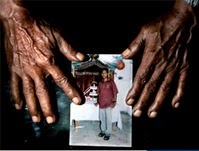 TID probing disappearances a coincidence
Police spokesman SSP Ajith Rohana said several people from the North and the Tamil media have claimed that the Terrorist Investigation Division (TID) had been holding inquiries into missing persons at the same time as the Presidential Commission to Investigate Disappearances was sitting in Mullaitivu last week. This was a co-incidence as the TID did not know the Presidential Commission was sitting there at that time, he said. Several Tamil newspapers highlighted the alleged inquiry on missing persons being held by the TID when the Presidential Commission was holding inquiries in close proximity to the TID office and people were asked to visit them too.
Tamils alleged that the TID did not issue letters inviting them to come over to their office but telephoned them and the Presidential Commission holding inquiries in Mullaitivu was informed about this.
Residents alleged they had been getting several phone calls the previous night asking them to come to the TID for inquiries and also telling them to ask for the Death Certificate from the Commission officials rather than complaining of missing persons.
SSP Rohana who denied all allegations said the TID was not aware of the presence of the Presidential Commission in Mullaitivu and that when they heard of it, they had pulled out.
When Ceylon Today contacted the Presidential Commission on Missing Persons, the officials admitted the TID had been holding inquiries and the Attorney General's Department had asked them what business they had with the inquiries to which there had been no answer, as it was a junior officer who had answered the phone.
According to Chairman of the Commission, Maxwell Parakrama Paranagama, the TID had informed the Presidential Commission they were holding inquiries unfortunately on the same day, and they too have about 1,900 complaints and those had been received long before the Presidential Commission was formed last year. According to the TID, several Northerners had lodged complaints about loved ones gone missing and they are also inquiring into those, the Chairman said.
When the Chairman had heard that the TID is also doing a legal process of holding inquiry into missing persons, he had told the complainants to assist the TID as well.
When Ceylon Today asked what the TID would do with the complaints, he said "I don't know. We have no right to ask what they are doing. My Commission is following the mandate and they are doing their duty," he said.
By Sulochana Ramiah Mohan
Ceylon Today