A special Police team  conducted a search operation at UNP Parliamentarian Ranjan Ramanayaka's residence at Madiwela. They had obtained a warrant obtained from Nugegoda Magistrate's Court.
UNP Parliamentarian Ranjan Ramanayake has been arrested by the police over possession of a pistol without a valid license reports Daily Mirror.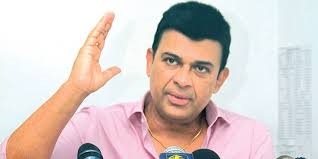 Ramanayaka  tweed  11,30 AM Sri Lanka time that Police searching my house now with a search warrant which doesnt mention the reason. I have not done any crime but in case if I get arrested I will go to prison not hospital. I am in good health and ready to face any repurcussion for speaking the truth.
Later he tweeted saying that "Looks like they want to take my personal laptop and all the CDs & DVDs at my home. They have also taken a file I had on murder of Ruggerite Wasim Thajudeen. Looks like under Gotabaya Rajapaksa  we cant keep any laptops or document files.
Featured photo courtesy of Ada Derana.