File photo.
The police have fired water and tear gas to disperse a protest march in Borella Vanathamulla area.
It is reported that this attack was carried out on a protest organized by the Workers' Struggle Centre.(කම්කරු අරගල මධ්‍යස්ථානය). The Centre is affliated to the FrontLine Socialist Party.
Meanwhile, the Magistrate of Maligakanda has issued a prohibition order for the protests that will be held today (28) centered on Colombo's Lipton Roundabout and the surrounding area from 10.30 am today to 10.00 am tomorrow (29) from 10 places including the Colombo National Hospital.
It is stated that this order has been issued against 9 activists of trade unions and civil organizations.
Accordingly, this prohibition order has been issued to Duminda Nagamuwa, Roshen Sameera, Tampitiye Sugathananda Thero, Jagath Dhammika Munasinghe, Thanne Gnanananda Thero, JB Gurusinghe, Chinthaka Rajapaksa, Nayana Ranjani, Nilan Fernando, Lahiru Chaturanga Weerasekera, Vidarshana Kannangara.
It is stated that the Magistrate of Maligakanda has given this order considering the facts presented by the Maradana Police before the court regarding this protest.
A journalist and social activist, Tharindu Uduvaragedara, was arrested during the protest.
Before being arrested, he was beaten by two police officers and taken to the Boralla police.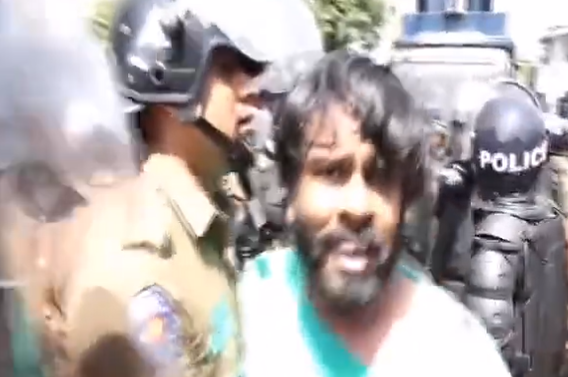 The journalist tried to report it while the police were attacking the protestors. At that time, two police officers scolded him and took him near a police jeep, obstructing his professional activities.