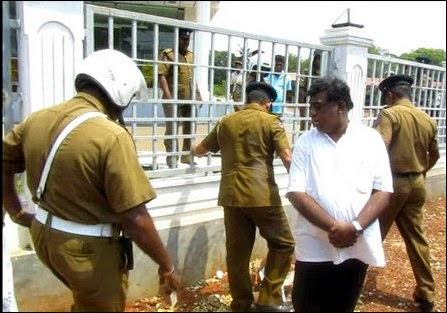 SL Police destroys floral tribute
by elected Tamil representatives
The occupying Sinhala policemen of genocidal Sri Lanka on Friday desecrated a Mu'l'livaaykkaal memorial event in a disgusting manner in front of the Northern Provincial Council (NPC) Secretariat at Kaithadi, by tramping on the floral tribute and memorial lamps that were lit by the elected Tamil councillors of the NPC. The SL policemen blocked the elected representatives from entering the NPC Secretariat. When the Tamil councillors lit memorial lamps and conducted a floral tribute in remembrance of the people and their fighters, who faced the genocidal onslaught in Vanni 5 years ago, Sinhala policemen desecrated the memorial lamps and the flowers with their boots.
However, the elected representatives resolved that they would proceed with Mu'l'ivaaykkaal Remembrance from Friday to Sunday throughout the country of Eezham Tamils.
SL police destroys floral tribute by NPC councillors
Amidst threats and the harassment of the SL police, Tamil councillors M.K. Shivajilingam, Ananthy Sasitharan and Mary Kamala from Mullaiththeevu with a group of elected civic members and public paid their tribute by 2 minutes silence in front of the NPC secretariat.
S. Shageevan from Valikaamam North Divisional Council and N. Sathees from Valveddith-thu'rai Urban Council and several other Tamil political activists took part in the event.
Mr Shivajilingam, the former parliamentarian of the TNA, urged the public to exercise their democratic right together with their elected members. The international community should realise the plight of the nation of Eezham Tamils who are denied of their collective democratic rights, he said.
An uprooted elderly man paid an emotional tribute at the event amidst the suppression by the SL police.
TNA councillor Ananthy Sasitharan said the councillors paying tribute were exercising none other than a democratic right to honour those who perished in the war.
The occupying Sri Lankan State has stepped up threats and harassments against the students, academics, civil society and the elected representatives of Eezham Tamils this year.
The conduct of the SL police on Friday also comes a few days after the occupying Sinhala forces observed Buddhist Vesak with massive mobilisation as never before in all the districts of occupied country of Eezham Tamils on 13 May.
The University of Jaffna was shut down following the instructions and SL military intelligence intimidation against the student union and the teachers association that have been voicing for the collective right of remembering the kith and kin who perished in the genocidal war waged against them by the SL State and its external abettors