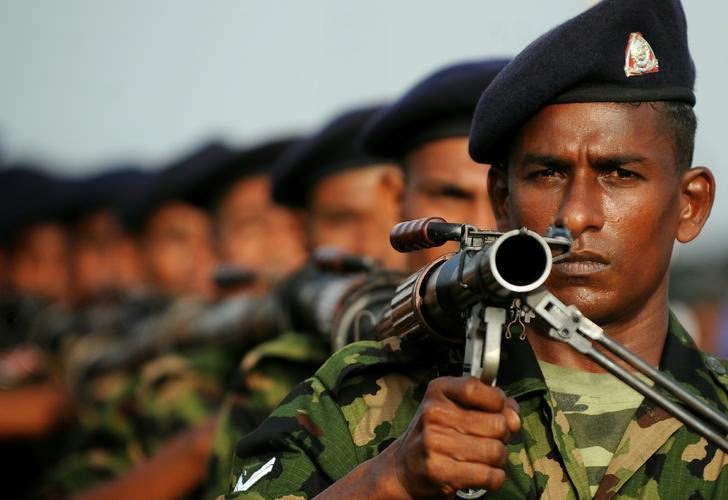 "victory parade"!
Sri Lanka's police have broken up a remembrance service for ethnic Tamils killed in the separatist war, residents say, as the military prepared to celebrate its victory over Tamil Tiger rebels five years ago.
Tamil politicians attempted to stage the remembrance on Friday at local council offices in the northern battle-scarred town of Jaffna, defying a ban on public commemorations of war victims, witnesses said. The government is planning a major military "victory parade" on Sunday to mark five years since the defeat of Tamil Tiger rebels, who waged a decades-long battle for a separate homeland for minority Tamils.
Services have been banned to honour Tamil rebels and remember civilians killed in the conflict which ended in 2009 after claiming at least 100,000 lives.
In Jaffna, police barricaded the building, preventing politicians from entering, and smashed a banana tree branch brought to the service in a Hindu religious practice to commemorate the dead, witnesses said.
"They lit camphor lamps just outside the council wall because they could not go in," a witness said asking not to be named. "But, a policeman stamped on the camphor and snuffed out the flames."
There were no reports of arrests in Jaffna, 400 kilometres north of Colombo, but authorities have warned they would use tough anti-terror laws against those defying the ban.
Government forces declared an end to the 37-year war after killing Velupillai Prabhakaran, leader of the Liberation Tigers of Tamil Eelam (LTTE) in a final battle in the northeast on May 18, 2009.
Local residents in Mullaittivu district where he died said this week they would hold private memorials but no public events out of fear of arrest.
Human Rights groups have said at least 40,000 civilians were killed in the final months of the fighting alone and have accused government forces of war crimes, an allegation Colombo strongly denies.
The defence ministry said arrangements were in place for Sunday's parade in Matara, the southern heartland of the majority ethnic Sinhalese and the birthplace of President Mahinda Rajapakse.
"All arrangements have been finalised for the holding of the 5th Victory Day in Matara on Sunday," the ministry said, adding that more than 7500 troops and police will be deployed.
Over 100 military vehicles, 40 ships and gunboats and 35 military aircraft will take part in the celebrations in the coastal town of Matara.