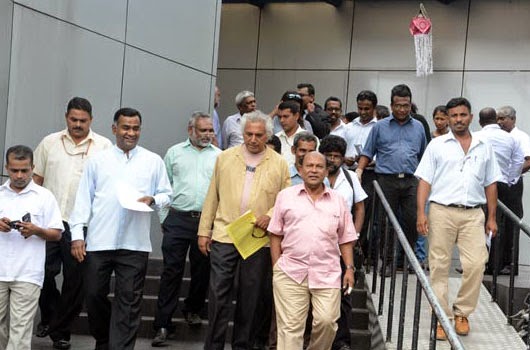 Political leaders and journalists
leaving the NHRC after the complaint
A petition was handed over to the Human Rights Commission of Sri Lanka (HRC) yesterday (21), against illegal blocking of websites in Sri Lanka that being unofficially conducted by the Government.
The petition was handed over to the NHRC by the Professional Web Journalists Association and the editor of Sri Lanka Mirror website in the presence of media rights groups and opposition politicians.
The petition had named the Media Minister, the secretary of the Media Ministry, Internet Service Provider companies and the Telecommunication Regulations Authority (TRC) as respondents.

The petition has called for an immediate inquiry regarding the issue as the constitutionally granted freedom of expression as well as the equality before law has been clearly violated due to these unlawful actions.
Since access to "Sri Lanka Mirror" website was barricaded by all the Internet Service Providing Companies in the country from 12.05.2014, and from the 20th May 2014, "The Independent.lk" website became the latest pray to these "media guillotine".
Expressing his views regarding the matter, Mr. Kalum Shivantha, the editor of Sri Lanka Mirror website, said that the ISP companies have verbally informed him that the blocking was done upon recommendation of the TRC.
So far access to 8 websites in Sri Lanka has been blocked. They are Lanka News Web, Lanka E News, Lanka Guardian, Tamil Net, Colombo Telegraph, Sri Lanka Mirror, The Independent and Jaffna Muslims.
Censoring news websites in Sri Lanka first came in to open discussion during the War time in 2005.
Many journalists were subjected to threats, assaults and even murders during this time period. Accordingly, Tamil Net was the first website that was blocked in Sri Lanka.
This media blockade soon got hold of several websites in Sri Lanka under many guises. It even reached to further extremes such as setting fire in to the Lanka E news office causing the editors of the site to continue their work from abroad.
Once six journalists of Sri Lanka Mirror, and 2 journalists of the Lanka X news website, were taken in to CID custody.
It resulted in the complete shutdown of the Lanka X news website.
The editor-in-chief of the recently barred "The Independent.lk" website is Mr. Subhash Jayawardhana, who was arrested while working in the Lanka X news
The Independent