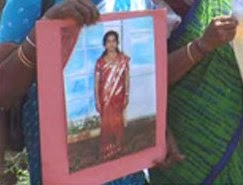 The violation of human rights in Trincomalee on World Human Rights day proves that the Rajapaksa regime doesn't care two hoots for the Commonwealth Charter let alone the Universal Declaration of Human Rights, despite the President being the Commonwealth Chairman, the 'Samagi Balawegaya' says.
In a statement, the 'Samagi Balawegaya' condemns the violent conduct of the state sponsored thugs at a peaceful demonstration by them in Trincomalee yesterday (Dec. 10).

The demonstration urged the government to implement the LLRC recommendations.
Dr. Wickramabahu Karunaratne, Senior Attorney-At-Law Lal Wijenayaka and Dr. Chandraguptha Thenuwara have signed the statement on behalf of the 'Samagi Balawegaya'.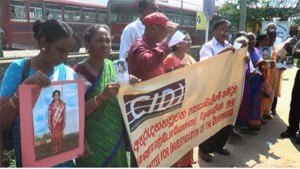 Several persons including one 'Samagi Balawegaya' activist as well as Secretary of the committee probing disappearances and activist of the Nava Sama Samaja Party – Sundaram Mahendran are currently in hospital after being injured during the incident in Trincomalee, the statement says.
The refusal of the police to write down a complaint on this regard further exposes the government's true self with regard to Human Rights, it adds.
This also portrays the fact that the Rajapaksa regime will not the public their rights and that in order to win their rights, the public should take to the streets as one body, the statement further says.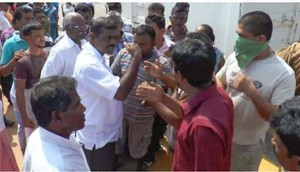 Thugs looks like military
Although around 30 thugs, including some with concealed faces, had assaulted those holding the demonstration while the police looked on, the 'Samagi Balawegaya' statement says.
SLM