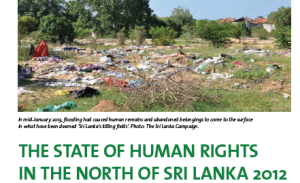 The UN's human rights body has angered Sri Lanka by voting on a new resolution that calls on the island's government to fully investigate civilian killings in its recent conflict and expresses growing concern over continuing atrocities.
But while officials in Colombo insist they are striving to account for the civil war violence and are actively working towards a lasting peace, evidence gathered from across the country indicates a ruthless campaign of oppression is being pursued with impunity.
As the UN Human Rights Council prepares to vote in Geneva, a new assessment published by the Geneva-based Sri Lanka Brief claims that Sri Lanka's leaders havebetrayed citizens by wilfully ignoring international pledges of reconciliation and demilitarisation.
Instead, there is overwhelming evidence that the government has encouraged an increasing sense of lawlessness in which abduction, arbitrary arrest and intimidation is commonplace. There are also regular reports of minorities, particularly ethnic Tamils, being persecuted.
Sri Lanka's government in 2011 pledged to abide by the recommendations made by its own Lessons Learned and Reconciliation Commission – a body set up to look into the events and aftermath of the three-decade civil war between government troops and Tamil rebels which ended in 2009.
The commission was criticised by international rights groups for its failure to examine the final months of the conflict when tens of thousands of civilians are believed to have died in atrocities committed by both sides. Nevertheless it urged steps be taken to end deep seated hatred and hostility.
Two years later, the problems are not going away. Sri Lanka Brief says its latest report shows that the government has "failed miserably" in implementing its own recommendations aimed at imposing accountability on its security forces and restoring full democracy.
The study highlights ongoing killings, torture, arrests and detentions. It says there have been frequent attacks on press freedom and the right to peaceful assembly as well as land grabs, military violations and a failure to respect the grief of those affected by conflict.
Recent months have also seen increasingly violent efforts to impose aspects of the Buddhist culture of the majority ethnic Sinhalese upon the mainly Hindu Tamils and other minorities.
Disturbingly, the study also reports that Sri Lanka's military appears to be building and profiting from a macabre tourism industry around the northern "killing fields," the scene of the recent war's terrible climax. In doing so, it is apparently seeking to glorify the deaths of the defeated Tamils.
"The attitude of victor versus the vanquished is quite evident in every sphere of life," the report says.
"People are not permitted to speak ore assemble freely, some have no access to their homes as the military and their families are occupying their lands, and they still have no security with the military still being able to pick people up from the street or their homes on the suspicion of being linked to a terror outfit that the president himself claimed to have annihilated in May 2009."
Listing several incidents of press intimidation, the report detailed how one government minister, Rishard Badurdeen, assaulted a 72-year-old journalist last May. Two months earlier, another minister, "Douglas" Devananda, called for attacks on a newspaper in Jaffna – the region once claimed by the Tamil rebels
A second list focuses on attacks on peaceful protests. These include one in July 2012 in which masked men disrupted a demonstration in Jaffna about the recent killing of a Tamil prisoner. In October, an unknown gang doused people attending a political rally in Jaffna with burning oil. Following one demonstration organised by Roman Catholic clergy in the northern town of Mannar, Rayappu Joseph, a local bishop who had sought information about the fate of thousands of people missing since the war, was subject to harassment and intimidation from security forces.
Other alarming trends involve the treatment of women. Last November more than 100 young Tamil women were coerced into joining the military after they were recruited for clerical work. The women were then confined to a military base where visits from family were heavily restricted.
There have been other incidences of militarisation. Teachers have been drafted into the armed forces and schools ordered to become affiliated to the military. Troops remain widely deployed throughout the island's north and many public civilian events subjected to military scrutiny.
Sri Lanka's army and navy have also been accused of seizing land and displacing families. This, alongside by accusations that scores of Tamils have been wrongful imprisoned and possibly tortured, is feared to be part of a wider programme of Sinhalese colonisation.
Furthermore there are reports of the destruction of cemeteries and war memorials honouring Tamil fighters. Sri Lanka Brief says this denies the families of those killed a place to grieve and pay homage to their loved ones.
Vulnerable families of Tamil fighters killed in the war have also been subjected to abuse, the report says. It highlights the case of one 13-year-old girl, Jesudasan Lakshini, who was raped and allegedly killed by a cadre of the pro-government Eelam People's Democratic Party.
Witnesses say Lakshini was abducted as she went shopping for fish at a market in the Delft area of Jaffna. Her semi-naked body was later found in a small lane, having suffered multiple blows to the head. The man accused of killing her was arrested but is yet to stand trial.
The report said Lakshini's case highlights the lawlessness in northern Sri Lanka and the dangers it poses to women, who in many cases are too scared to report assaults to the police for fear of further harassment.
In the run up to the UN Human Rights Council vote, Sri Lanka's government has sought to play down such issues, saying the work of its Reconciliation Commission proves its commitment to restoring harmony in the wake of the conflict.
"Sri Lanka needs adequate time and space to resolve such wide-ranging and deep-rooted issues," Mahinda Samarasinghe, Colombo's special envoy on human rights told the UN council. "Undue pressure exerted by external parties on this one aspect is not helpful in the resolution of these issues."
Despite his claim, the litany of abuses and violations still being perpetrated across Sri Lanka suggests otherwise. As the report concludes, the government has been unwilling to
implement the more constructive elements of the Reconciliation Commissions findings.
"The disappearances, sex abuse, arrests, intimidation, assaults land occupation and so on in Sri Lanka are all clear evidence of a lack of progress all indicate a lack of progress and an unwillingness to cooperate with international investigations," said XXXXXXXXXXXXX. "Unless this changes then there is little hope that the country can draw a line under its bloodstained past."
Read the full report here