Police have detained 83 demonstrators, including Eranga Gunasekara, national organiser of the Socialist Youth Union (SYU), the youth front of the JVP, during a protest march yesterday.
Members from the National People's Power (NPP) along with the SYU yesterday staged a protest in front of the Lipton roundabout demanding the release of protesters who have been detained under the Prevention of Terrorism Act (PTA) and against suppression. They proceeded to march along Dean's Road where tear gas was used on them.

Police used tear gas and water cannons to disperse the protesters on Deans Road, Maradana.
The protest caused a heavy traffic congestion along the route. A video circulating on social media shows police beating Eranga Gunasekara and a monk attached to the union.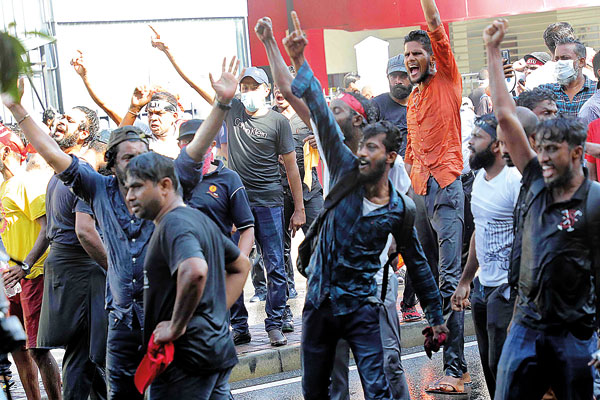 A group of protesters also gathered at the Viharamahadevi Park premises.
Police media spokesman SSP Nihal Thalduwa said investigations were being carried out on the 83 arrested protesters and they would probably be produced in the Fort Magistrate courts today.
JVP leader Anura Kumara Dissanayake visited the protesters at the Maradana Police.
He called for their release saying they were only expressing opposition to the action by the Government.
Sunday Times.
All arrestees were given police bail next day except 3 of them. They were given bail by the court.