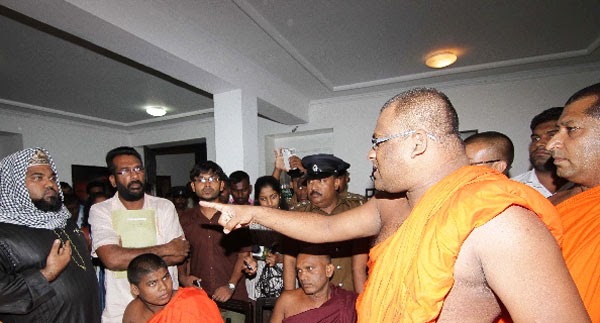 Shut up – BBS to Muslim Cleric
The opposition Janatha Vimukthi Peramuna (JVP) today slammed the behaviour of the Bodu Bala Sena (BBS) after BBS members had stormed the venue of a press conference yesterday and verbally abused a monk and a Muslim cleric.
A JVP statement said that the BBS had no right to disrupt a press conference as in a democracy anyone has a right to hold press briefing to express their views.
The JVP also said that if anyone has an opposing view the they can hold a separate press conference to express that view.
"By disrupting a press conference the BBS has set the wrong example," the JVP said.
The JVP also warned that if everyone behaves like the BBS then the situation in the country could take a bad turn and at a time when there are moves to strengthen communal harmony attempts which counter such moves should be condemned.
Bodu Bala Sena General Secretary, the Venerable Galaboda Aththe Gnanasara thero verbally abused a Buddhist monk and a Muslim cleric after storming the venue of the press conference organised by the Jathika Bala Sena yesterday.
Gnanasara thero and a group of people prevented the press conference led by the Venerable Watarekke Vijitha Thero from taking place and verbally abused the Buddhist monk when he was about to brief the media at the Nippon Hotel.
The press briefing was organised by some monks and Muslims to brief the media against allegations that a new resettlement colony was being constructed with funds from a Donor Agency and named as Jassim City inside the Wilpattu National Park.
Gnanasara verbally abused the monk at the press conference venue and when the Muslim Cleric attempted to intervene he was also verbally abused.
The BBS said that a Buddhist has no right to speak on behalf of Muslims and threatened to disrobe the Venerable Watarekke Vijitha Thero in front of the media.
"Shut up," the Venerable Galaboda Aththe Gnanasara thero kept shouting at the Muslim cleric when he attempted to express his views.
The incident took place in the presence of police officers who stood there but did not intervene. Once the BBS members and supporters left the venue the police escorted the Venerable Watarekke Vijitha Thero out of the venue. (
Colombo Gazette)