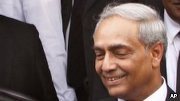 confused evidence
By Charles Haviland
A senior Sri Lankan official has said that he has no idea about the whereabouts of a disappeared journalist seven months after saying he believed the man was alive and living abroad. Human rights activists say that the remarks of former Attorney-General Mohan Peiris betray insensitivity to the plight of missing people.

They say that is especially so at a time when disappearances are ongoing.
Several dozen of such cases have been reported since October.
The government denies any role in enforced disappearances.
It says that accounts of them are inaccurate.
But critics of the government say its involvement is suspected.
Mr Peiris was called before a magistrates' court looking into the disappearance two years ago of journalist and cartoonist Prageeth Ekneligoda.
The court wanted to hear more on his assertion – made before a UN committee in November – that he believed Mr Ekneligoda was alive and living in a foreign country.
That statement came despite an emotional and public campaign by Mr Ekneligoda's wife, Sandhya, to try and find him.
In court, Mr Peiris – now a legal adviser to the cabinet – gave a confused account of what he had actually said in Geneva, saying both that he had heard it from "intelligence" and from "hearsay".
Testifying just yards away from Mrs Ekneligoda, he said "we do not know the truth or falsity" of the matter and he wished he could shed more light on it.
Under cross-examination, he said he could not recall which government department gave him the information that Mr Ekneligoda was alive.
Mr Peiris, who had not wanted to appear at the magistrates' court, refused to answer BBC questions outside the courtroom.
After the hearing, human rights campaigner Nimalka Fernando accused the government of behaving irresponsibly.
"If you look at the manner in which these responsible people – who are also supposed to be advisers to the cabinet – behave, it shows the utter insensitivity that they have to the crime of disappearances," she said.
Sandhya Ekneligoda said she and her two sons had hoped for new information from Mr Peiris but she had come away disappointed.
Mr Ekneligoda worked for an anti-government website, Lankaenews.com, and vanished two days before the 2010 presidential election which saw incumbent President Mahinda Rajapaksa beat former army chief Sarath Fonseka.
Among those who have disappeared in the past six months are two young activists who had themselves organised regular demonstrations by families of disappeared people.
BBC