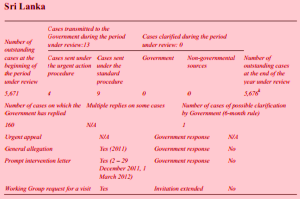 Observations
389. The Working Group regrets that no response was received from the Government to its general allegation on 4 May 2011, concerning serious obstacles encountered in the implementation of the Declaration on the Protection of All Persons from Enforced Disappearances in Sri Lanka
during the last phase of the war against the Liberation Tigers of Tamil Eelam from 2006 to 2009 (A/HRC/19/58/Rev.1, paras. 495-501), notwithstanding a reminder sent on 13 August 2012.
390. The Working Group is seriously concerned that, during the reporting period, it transmitted four urgent actions, nine standard cases, and two prompt intervention letters. In this respect, the Working Group would like to recall the Declaration, which affirms that States must take steps to ensure that persons involved in investigations of cases of disappearance, including the complainant, counsel, witnesses and those conducting the investigation, are protected against ill-treatment, intimidation or reprisal. The Working Group would also like to recall that, in its resolution 21/4, the Human Rights Council urged Governments to take steps to provide adequate protection to witnesses of enforced or involuntary disappearances, human rights defenders acting against enforced disappearances, and the lawyers and families of disappeared persons against any intimidation, persecution, reprisals or ill-treatment to which they might be subjected, paying special attention to women as relatives of disappeared persons in the context of their struggle to resolve the disappearance of members of their families.
391. Following its request dated 16 October 2006, and reminder letters sent on 20 July 2009, 16 August 2010, 20 July 2011 and 8 November 2012, the Working Group wishes to reiterate its hope that the Government will extend an invitation for a visit to the country.

Urgent actions
362. The Working Group transmitted four cases to the Government under its urgent action procedure.
363. The first two cases concerned Mr. Lalith Weeraraja, Jaffna coordinator of the Jana Aragalaya (People's Struggle) movement, and an executive committee member of We Are Sri Lankans, a student-based organisation which works to defend the rights of Tamil people in Sri Lanka; and Mr. Kugan Muruganandan, who were allegedly arrested by members of the Sri Lankan Army on 9 December 2011.
364. The third case concerned Mr. Ramasamy Prabaharan, a Tamil businessman of Indian origin, allegedly abducted by seven armed men in civilian clothing, believed to be security forces agents, on 11 February 2012. In a communication dated 5 April 2012, the Government acknowledged receipt of this urgent action.
365. The fourth case concerned Ms. Vasanthamala Pathmanathan, allegedly arrested at a bank near Vavuniya by agents of the Criminal Investigation Department (CID) of the Police on 21 August 2012.
Standard procedure
366. The Working Group transmitted nine newly-reported cases to the Government.
367. The first case concerned Mr. Punyamoorthy Velusamy, a three-wheeler taxi driver who allegedly disappeared between his house and Horombuwa Junction, Suduwatuara Road on 1 March 2008. The police had reportedly previously been to Mr. Velusamy's house on several occasions and questioned him regarding whether he had received money from the Liberation Tigers of Tamil Ealam (LTTE).
368. The second case concerned Mr. Mathurakulasingam Velautham, who was allegedly arrested at 55 Alwis Place, Kottehena, Colombo, by paramilitary forces reportedly working with the Sri Lankan military, on 11 June 2008.
369. The third case concerned Mr. Abiyouth Anthony, also known as Hilman, an employee of the District Secretariat of Mannar, Government Agent's Office, who allegedly disappeared after leaving a family member's house in Kallikaddaikadu, Uyilankulam, Mannar district, on 5 January 2009. Mr. Anthony was reportedly seen approximately one month after his alleged disappearance in front of Thalladi Military Camp, walking with army officers.
370. The fourth case concerned a person below the age of 18 who, on 17 April 2009, was allegedly last seen in Puthumathalan. According to the information received, during the night of 17 April 2009, the person below the age of 18 was reportedly forcibly taken away by members of the Liberation Tigers of Tamil Eelam (LTTE). On 20 April 2009, the Sri Lankan army allegedly took control of the area. It was reported that all those in the area where the person below the age of 18 had been were taken away by members of the army.

371. The fifth case concerned Mr. Varathalingam Ratnathurai, also known as Puthuvai Rathinathurai, who was allegedly arrested by the Sri Lankan Army in Vadduvakal, Mullaitivu on 18 May 2009.
372. The sixth case concerned Mr. Ilmi Rifai Ahmed Adbulla who, on 5 May 2010, was allegedly abducted by seven individuals, one of whom was in police uniform, and driven away in a white van with registration number 7030 when he was returning home from work on his motorcycle.
373. The seventh and eighth cases concerned Mr. Mohamed Kaya Mohideen Musammil, an employment agency worker, and Mr. Mohamed Oseer who were allegedly arrested by police officers on Mawella Lane, Baseline Road, Dematagoda, Colombo 09, on 7 May 2010.
374. The ninth case concerned Mr. Mohamed Akram who, on 9 June 2010, was allegedly abducted by a group of men, three of whom were in police uniforms, driving white vans with registration numbers 58-0093 and LF 7655 at the hotel in front of a race course in Nuwara Eliya.
Prompt intervention
375. On 29 December 2011, the Working Group, together with four other Special Procedures mechanisms, sent a prompt intervention letter regarding the alleged arrest and detention of 42 human rights and political activists, including members of the nongovernmental organisation, the Committee to Investigate Disappearances.

376. On 1 March 2012, the Working Group, together with four other Special Procedures mechanisms, sent a prompt intervention letter regarding alleged repeated instances of excessive use of force against peaceful protestors, and undue restrictions on the rights to freedom of peaceful assembly and expression, including against members of the Organization Collective against Abductions and Disappearance (OCAD), a platform of civil society organizations working on cases of disappearances and abduction.