SLB –
Issuing a lengthy statemet, on behalf of the Ministry of Defence, the  military spokesman Brigadier Ruwan Wanigasooriya  says that 'there has  not been a single attack on journalists reported in the past few years'. This is only one statement  among number of  such ridiculous assertions made by Brigadier  Wanigasooriya. On the issue of attacks on minority religions he says that 'the action taken to address reported incidents of disturbances in the recent past'
The Brigadier has conveniently forgotten the  attacks and harassments faced by Tamil journalists as well as attacks on Sinhalese journalists in Aluthgama, a press freedom activist told SLB. He further added that Brigadier  Wanigasooriya shuould explain the action taken against Aluthgama murderers or why the promised independent commission is not being appointed to investigate the Bodu Bala Sena violence in Althgama against the Muslims.
Exxerpts form the statement released by military spokesman Brigadier Ruwan Wanigasooriyaon behalf of the Ministry of Defence folows:
"The latest comes in the form of comments made by the Embassy Spokesperson regarding the Commission of Inquiry on disappearances and the recent appointment of an international advisory panel. The broad, sweeping allegations made by these officials therein, are without any factual basis.
"In its comments, while welcoming a credible investigation, the US Embassy spokesperson says that there are "numerous reports of widespread threats and intimidation by security forces against witnesses and potential witnesses to the Commission".
To date no evidence to substantiate this claim has been brought to the attention of any Government authority. If indeed the US Embassy was genuinely concerned regarding threats to witnesses, specific details of such incidents and reports should have been made available to the Government for a response.
"Furthermore, it is reported that the Embassy spokesperson expressed concerns on continued attacks against journalists and members of religious minorities, as well as the weakening of the rule of law and increasing impunity for illegal actions.This gives the impression that journalists and members of religious minorities are attacked in Sri Lanka, on daily basis, whilst no action is taken by the Government to enforce law and order and bring perpetrators to justice. There has also not been a single attack on journalists reported in the past few years.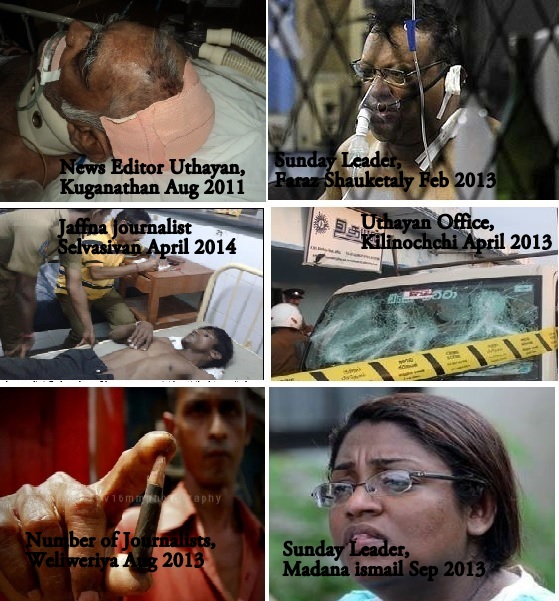 Some of the journalists came under attacks in reent years
"It may be noted that all people living in Sri Lanka enjoy freedom of religion, which is a constitutionally guaranteed right. The Government of Sri Lanka remains committed to ensuring that this right is protected. This is evidenced by the action taken to address reported incidents of disturbances in the recent past.
Action has been taken on those who have contravened the law of the land, once sufficient evidence has been gathered for prosecution. More broadly, religious leaders of all faiths have been consulted at the highest levels in arriving at a mutually acceptable solution to issues that have arisen. In keeping with Sri Lanka's societal, cultural and historical norms, regular dialogue continues to take place at various levels to ensure interfaith harmony and understanding amongst its diverse populace.
It is therefore unfortunate that isolated, sporadic and media-sensationalised incidents have been misinterpreted as representative of an overall weakening of the rule of law and impunity for illegal actions.
The Government has asserted clearly on many occasions that if reliable evidence is available in respect of any contravention of the law, the domestic legal process will be set in motion.