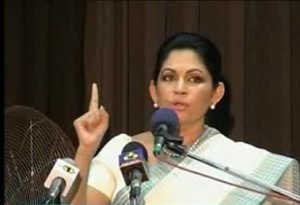 It is an insult – Rosy Senanayake , M.P.
In a bizarre headline the Daily Mirror indirectly boasted a completely unnecessary remark by a minister made while answering a question by a female member of a parliament.
The newspaper instead of
making a critical comment gave the head line to the story:
Welgama enthralled by Rosy's charms',
Here is the news item posted by the Daily Mirror, the English daily of the Wijeya newspaper group.

Welgama enthralled by Rosy's charms
Transport Minister Kumara Welgama told Parliament today he had no words to express his feelings towards UNP MP Rosy Senanayake whom he described as 'a charming and beautiful lady'.
The Minister made these remarks when a question was directed at him by Ms. Senanayake during question time.
"I am so happy to answer a question by a beauty queen like Rosy Senanayake. You are such a charming woman. I have no words to describe my feelings," the minister said.
At this point, United National Party (UNP) MP Gamini Jayawickrama Perera made some remarks against the minister.
He said, "I cannot explain my feelings here. But if you meet me outside Parliament, I will describe them."
Ms. Senanayake said there was no need for the minister to make these remarks merely because of her as a woman.
"I consider it as an insult. The minister should not have referred to my looks and womanhood in that manner," she said.
"I never insult women. It is a fact known to everybody," the minister said. (Kelum Bandara and Yohan Perera)
DM