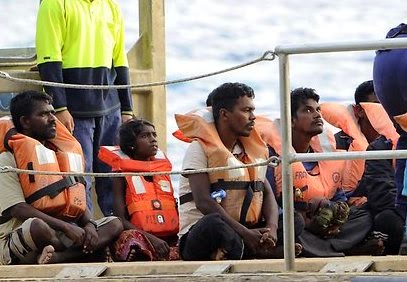 Sri Lankan Boat people ( file photo)
A key operative of Sri Lankan President Mahinda Rajapaksa's ruling UPFA and two of his close associates have been arrested in Mullaiththeevu by the SL police on 05 April following reports from Australia that they were operating a human trafficking agency. The UPFA operative, who is a close confidante of Namal Rajapaksa, was identified as 45-year-old Arul Jenyberd, who lost in the NPC elections on UPFA ticket. In the meantime, the Terrorist Investigation Division (TID) has arrested a group of fishermen on the following day at Polika'ndi in Point Pedro on allegations that they had bought a boat from money obtained from overseas, in an attempt to project them as having 'LTTE' connections.
More than 50 people have been arrested within the last 5 weeks on various allegations by the TID.
Earlier, the occupying SL military had installed Arul Jenyberd as the president of Mullaiththeevu Fisheries Society.
More than 15 million rupees in the possession of the society during the times of the de-facto state run by the LTTE, was withdrawn from various bank accounts and exploited by the occupying Colombo through the UPFA operative, informed sources told TamilNet.
Four others, including two of his close associates, 38-year-old Mariyathas Fredrick Johnsen and 34-year-old Mariyathas Antony, have also been detained on the same day.
The other three of the arrested are 32-year-old Anton Iruthayarasa Selvarasa, 45-year-old Vincent Mariyathas Alakarasa and 53-year-old Nakappu Michaelpillai.
The arrests come in the wake of reports coming from Australia demanding action against the individuals. There are also lawsuits being filed by affected victims who have returned to the island, the sources further said.
After exploiting the UPFA-aligned individuals from Mullaiththeevu, Colombo is now 'punishing' a section of them to divert any attention on UPFA leaders involvement in the human trafficking project. The SL Navy is also getting a share of the income.
However, the TID is attempting, as usual, to divert the attention away from the Mullaiththeevu group towards another group of fishermen who were detained on Sunday at Point Pedro. Two of them, 47-year-old Reginold Pathirinathan and 38-year-old Vincent Benedict Pathirinathan belong to the same family. In the meantime, another member of the same family, 30-year-old Alamenro Pathirinatha has also been arrested, the sources in Vadamaraadchi said.
In Thenmaraadchi, a manger of a Cooperative Society at Meesaalai and two of his family members have been detained by the SL police. The SL police is not providing on the whereabouts of those who were taken away.