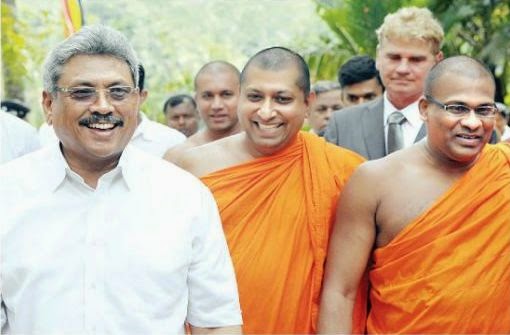 Defence Sec Rajapaksha with BBS
Muslim organizations in Sri Lanka have once against raised concerns over the Bodu Bala Sena (BBS) and comments they continue to make on Muslim related issues.
In a letter to President Mahinda Rajapaksa, a copy which was made available to the media, the Muslim Council of Sri Lanka, the Sri Lanka Jamath-e-Islamia, the All Ceylon Jammiyyathul Ulama and 12 other Muslim organizations noted that the BBS has been inciting hatred against Muslims for some time now.
The latest concern is the comments being made by the BBS on Muslims being resettled in the Northern Province. The Muslim groups said in the letter to the President that the BBS is wrongfully claiming that a new resettlement colony being constructed with funds from a Donor Agency and named as Jassim City inside the Wilpattu National Park.
"The government and the international community did not prioritize in their resettlement programmes to assist the returning Muslim IDPs. In fact it was only through the support from benevolent donors from Muslim countries the majority of Muslims were given assistance particularly for housing. This is now being seen by some Buddhist extremist group as a violation of Sri Lanka's rules for foreign assistance," the Muslim groups said.
They said the confusion and bad feeling caused by the BBS and the media reporting around the incident is causing great distress both to returning Northern Muslims and the rest of the Muslim Community.
"We felt that the difficult times of last year where extremist groups were openly making racists statements against the Muslim Community was a thing of the past. But sadly, this does not seem to be the case," the Muslim groups added. (Colombo Gazette)