Two-storied supermarket complex gutted in Aluthgama .
A two-storied super market in Aluthgama town was gutted by fire early this morning. The Kalutara Municipal Fire Brigade rushed to the scene at the request of the Aluthgama Police prevented the fire from spreading to other buildings in the town.
The Police had called for the Government Analyst's report to establish the cause for the fire. However, the owners of the super market suspected fire as an act of arson.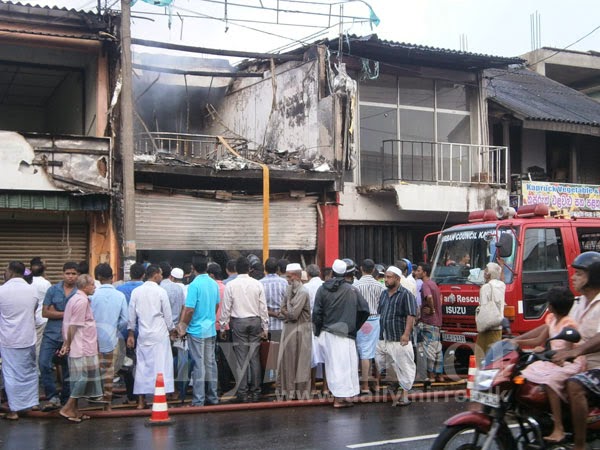 (Photo: Daily Mirror)
Meanwhile, a schoolboy was allegedly harassed by an individual in the super market complex and the residents of the area including several Buddhist monks staged a massive protest opposite the shopping complex urging the Police to bring the culprits to book. The schoolboy is under treatment at a hospital.
Meanwhile Lankaenews reported that the super-market is Muslim owned, and it was set on fire by Buddhist extremist groups. According to LankaeNews a child who has hidden a toy in his trouser was checked by the salespersons. The mother has complained that salesperson had harassed the child sexually and extremists groups had organised a protest against the super-market.