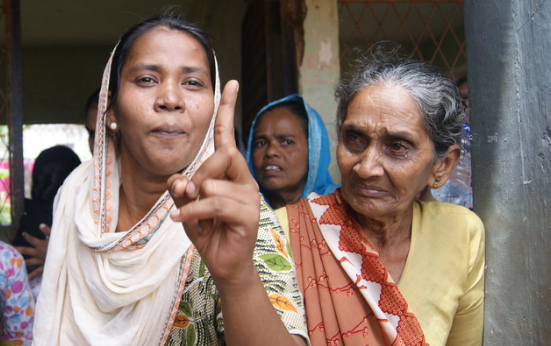 Refugees of Aluthgama (Vikalpa)
AFP / Sri Lanka's most senior Muslim politician Friday warned that his government's failure to restrain Buddhist monks accused of sparking religious hate attacks will foment Islamic extremism and threaten security. Justice Minister Rauf Hakeem said he had been under intense pressure from supporters to quit President Mahinda Rajapakse's coalition after it failed to prevent last month's deadly religious violence.

Four people were killed and 80 wounded in the worst religious riots to hit the island in recent decades.
Hakeem told the Foreign Correspondents' Association in Colombo that "Islamophobia" was gripping the mainly Buddhist country where Muslims accounted for 10 percent of the 20 million population.
"The Islamophobia in the West is copied and edited to suit the local conditions and exploited," Hakeem said. "The Muslim community has now become the punching bag (for Buddhist extremists)."
"If you do not nip this in the bud, then there could a radicalisation of Muslim society. It could be a fertile ground for extremist external forces. This is what we are worried about."
"The very thing you want to get rid of (Islamic radicalisation) will visit you."
Rights groups as well as the local media have blamed the police for failing to prevent last month's religious violence at three sea-side tourist resorts in the country's south.
Local media have also accused the police of siding with a radical Buddhist group accused of instigating the unrest.
Hakeem said there was an "inhibition" on the part of the government to act against a group called the Bodu Bala Sena (BBS), or Buddhist Force, which has been accused of sparking the riots.
The BBS has denied any hand in the violence and insist that they have no government patronage, adding that their struggle is against "Islamic extremists" and not moderates within the Muslim minority.
But Hakeem insisted that there were no religious fanatics among Sri Lanka's Muslims who had coexisted with the majority Buddhists for centuries.
The defence ministry called a press conference earlier this month to distance itself from the BBS amid mounting allegations of official collusion with the rioters.
Colombo meanwhile has rejected recent media reports that Sri Lanka was emerging as a transit point for Islamic extremists operating in neighbouring countries.
Last month's religious riots have raised concerns of a flare-up in violence as Sri Lanka emerges from a decades-long separatist war waged by ethnic Tamils, which ended in May 2009.
Hakeem said there was a danger of "history repeating itself" in Sri Lanka.
The UN estimates that at least 100,000 people were killed in the civil war that pitted the largely Sinhala-Buddhist army against Tamil-Hindu separatists between 1972 and 2009.
AFP