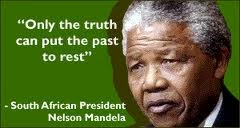 KRISHAN FRANCIS/ Associated Press
Sri Lanka's government said Wednesday that it was considering a process similar to South Africa's post-apartheid Truth and Reconciliation Commission to heal the wounds of the island nation's decades-long civil war.
Two senior ministers will lead a team to South Africa on Thursday for discussions with the country's government and the ruling African National Congress, Sri Lanka's Foreign Ministry said in a statement. South African President Jacob Zuma has appointed ANC Deputy President Cyril Ramphosa his special envoy to Sri Lanka, the statement said.

The visit is an apparent move to soften a third U.S.-sponsored resolution at the United Nations Human Rights Council over Sri Lanka's failure to properly investigate alleged atrocities and war crimes committed during the civil war against minority Tamil rebels, which ended five years ago.
But it may be difficult for Sri Lanka to convince its critics given its failure to publicize reports of previous commissions and implement recommendations that were made.
The United States has said the patience of the international community is "wearing thin" because Sri Lanka has not investigated abuse allegations as recommended by a 2011 report by the Lessons Learnt and Reconciliation commission, which was appointed by the Sri Lankan government.
A body modeled after South Africa's Truth and Reconciliation Commission could enable offenders to publicly admit their crimes and avoid prosecution.
The Truth and Reconciliation Commission, set up after South Africa abolished apartheid in the 1990s, allowed human rights offenders of all races to admit their crimes publicly in return for lenient treatment. It proved to be a kind of national therapy that would become a model for other countries emerging from prolonged strife.
Discussions in South Africa will be with the "aim of understanding the manner in which that exercise can help in Sri Lanka's own reconciliation process, following the defeat of terrorism," the Foreign Ministry said.
Sri Lankan troops defeated Tamil Tiger rebels in 2009, ending a quarter-century separatist war. Both government troops and Tamil Tiger rebels have been accused of serious human rights violations and war crimes.
The government has been accused of deliberately shelling civilians and hospitals, blocking food and medicine for civilians trapped in the war zone and deliberately undercounting the number of civilians caught up in the fighting. The rebels have been accused of holding civilians as human shields, killing those trying to flee and recruiting child soldiers.
A U.N. report said about 40,000 ethnic Tamil civilians may have been killed in just the last few months of the fighting.
ABC