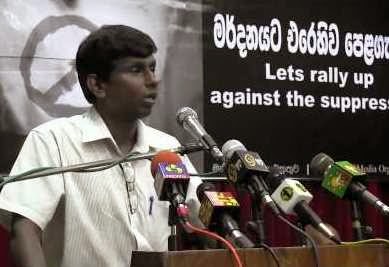 FMM public meeting
It's no-go for NGOs! by Dharisha Bastians
Sri Lanka's powerful Defence Ministry has sought to outlaw press conferences and media statements by Non-Governmental Organisations operating in the country, sparking a civil society outcry about an attempt to impinge upon freedoms of speech and assembly.
A circular issued by the National Secretariat for NGOs, which operates under the Ministry of Defence and Urban Development said certain NGOs were "acting beyond their mandate" by holding press conferences and workshops.
"It has been revealed that certain Non-Governmental Organisations conduct press conferences, workshops, trainings for journalists and dissemination of press releases, which is beyond their mandate," the Circular issued under the hand of Director/Registrar of the NGO Secretariat, D.M.S. Dissanayake noted.
"We reiterate that all Non-Governmental Organisations should prevent (sic) from such unauthorised activities with immediate effect," the circular ordered.
The circular, which is dated 1 July 2014, has only been issued to NGOs registered under the National Secretariat for NGOs, the Daily FT learns.
Executive Director of the think tank Centre for Policy Alternatives Dr. Paikiasothy Saravanamuttu told the Daily FT that the circular was a direct threat and challenge to civil society and to Sri Lanka as a functioning democracy.
"The chilling effect it intends on the freedom of speech and expression and on the freedom of association, confirms that this regime is either unwilling or unable to comprehend the basic requirements of democratic governance and that it is authoritarian to the core," Dr. Saravanamuttu charged.
Activist attorneys J.C. Weliamuna and Lal Wijeynayake, who convene the Lawyers Collective, slammed the Defence Ministry move, saying it had no legal authority under any statute to control the freedom of speech and association of citizens who act collectively through civil society organisations.
"The Defence authorities have acted beyond their mandate," the Collective said in a reaction to the circular.
Governments that respect democratic values respect the rights of citizens to engage in such lawful activities, the Collective noted.
"Only authoritarian regimes prevent such democratic engagements," Weliamuna and Wijeynayake asserted.
They said the communication of the Director of National Secretariat for NGOs is an indication of the limited understanding of the powerful Sri Lankan defence establishment on civil liberties. "The conduct of the MoD in issuing such communication further strengthens the allegation that Sri Lanka has now become an authoritarian state," the lawyers said.
Condemning the circular, the Sri Lanka Working Journalists' Association said the decree would further stifle what it called the country's "persecuted" civil society.
SLWJA said the directive comes after several NGO workshops, most recently one by the local Chapter of Transparency International, were stormed by the Government supporters.
"The latest directive is …a clear attack on the freedom of expression… and highlights Sri Lanka's slide towards authoritarianism," the SLWJA said in a statement. The media group has called on the Government to rescind the directive to the NGOs.
FT