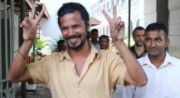 Journalists given bail
The nine employees of the Sri Lanka Mirror website, who were arrested yesterday, were released on police bail today. Among those arrested were journalists including women and girls. They were produced before the Colombo Magistrate at Hulftsdorp this afternoon and given bail and were ordered to appear in court again on the 6th of July.

Several employees of the Sri Lanka Mirror website including some journalists were arrested yesterday following a raid by the Criminal Investigations Department (CID).
Meanwhile the Defence Ministry said that acting on a court order the Criminal Investigations Department (CID) officials, yesterday sealed the Sri Lanka Mirror office where two websites involved in propagating false and unethical news on Sri Lanka were being operated from.
"These two websites were continuously involved in publishing false and unethical news about celebrities and popular personalities, misleading the international and local communities," the Defence Ministry said.
Meanwhile the U.S Embassy said it is closely following the case of the Sri Lanka Mirror and Lankaxnews, including the arrest of nine individuals associated with those websites.
"We have raised on several occasions our deep concern over efforts to suppress independent news media, including the blocking of news websites, intimidation, and disappearances of journalists," the Embassy said.
The United States believes that an uncensored and independent media available to all citizens is an indispensable part of any vibrant democracy and we call for an end to the harassment of these and all other journalists.
CG