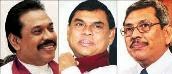 Not named but all knows!
Minister of Construction, Engineering Services, Housing and Common Amenities – Wimal Weerawansa says that two, three persons cannot be allowed to rule the country and things would always not work out in a happy go lucky manner.
Weerawansa was speaking at an interview with the 'Lankadeepa' newspaper.
Not directly naming these 'two, three persons' , the minister has said that even children of the country know who they are.
Emphasising that the war was won through a joint effort, the minister has rated the management of the government as 'zero'.
'As an example' a discussion about the approaching Presidential elections is held within the opposition. If we think every election can be won easily, such an estimation is wrong. No one can tell that things will work out for us always. However, not a single discussion is taking place on this regard. We should discuss these and come up with tactics,' he has said.
'The challenge triggered from Geneva should be politically managed. It is not an issue limited to the Ministry of External Affairs. The government is faced with taking up a massive role but not doing so. Two, three persons are ruling the country and these persons think all is well,' he has added.