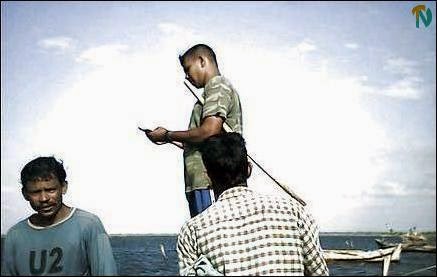 Pass system reintroduced ( File photo)
Clamping down on civilian life in the North, the occupying Sri Lankan military has re-introduced pass system for fishermen in the North to access their seas, putting up check posts on the roads, dawn to dusk search operations and military patrols of armed soldiers in the Northern province, especially targeting coastal areas. In the meantime, the occupying Sri Lankan military has 'arrested' at least 44 Eelam Tamils between 07 March and 27 March, news sources in Jaffna said. Most of them have been arrested in abduction style.
The iron fist control on the civilian life seeks to silence all activism and threatens the witnesses who have been prepared to witness against the genocidal crimes by the Sri Lankan State, rights activists in Jaffna told TamilNet. Civilian movement was at standstill during the nights as if a curfew has been clamped down at several locations of the peninsula.
On Sunday, Sri Lankan military officers instructed the fishermen socieity representatives to get all the fishermen to register their boats and obtain passes from the military in order to access the sea.
Thousands of Sinhala soldiers were deployed from Tho'ndaimaan-aa'ru to Vadamaraadchi East, carrying out search operations, checking identity cards of the people on the streets and putting up check-posts.
Similar instructions were given also to those who engage in fishing in the Jaffna lagoon. Search operations were also carried out in Kurunakar area.
SL soldiers have taken positions at fishing huts, market places and junctions along the coastal belt.
All the fishermen entering the sea will be checked and all those returning to the shore will also be checked with the passes provided to them by the SL military, the fishermen have been told.
The house of a former Sea Tiger commander, who has been released after SL military 'rehabilitation' was subjected to search by the SL military throughout the whole day on Sunday at Manthikai in Vadamaraadchi. Nobody was at home during the search.
The Sri Lankan soldiers have manned check-posts on A9 main road. Elephant Pass and Oamanthai points, which were almost dormant since the Provincial Council elections, have now become a full-fledged check points as they were during the times of war.
Patrol groups, each consisting 7-9 armed soldiers, were deployed on all junctions and key localities.
The occupying SL soldiers snatched the identity cards of the civilians who were traveling on the streets during the night on 27 March. They were asked to come to nearby SL military camps on the following day to obtain their identity cards back.
* * *
Following are some of the details of the reported arrests in March. Several other families and relatives have refused to provide the details of those who have been detained or taken away by the SL military intelligence operatives who call themselves as investigation officers from the Terrorist Investigation Division (TID) of the SL Police.
27 March 2014
The TID has arrested a 35-year-old man, Sinnathurai Sreekanthan, a father of one and a former LTTE member, who has been released after SL military 'rehabilitation'. The arrest has taken place at Udaiyaar-kaddu.
A driver, employed in the Northern Provincial Council Ministry of Education, who has been recently transferred from Jaffna to Mullaith-theevu was arrested at Vavuniyaa by the TID.
26 March 2014
35-year-old Mohan Kethees, a family man from Tharumapuram in Ki'linochchi, currently residing at Oaddu-madam in Jaffna, was detained by the TID. He was released on Friday by the Court.
25 March 2014
SL military indiscriminately assaulted four Tamil youths, 19-year-old Kamalathas Rajendram, 24-year-old Salojan Augustin, 25-year-old Suren and 25-year-old Najeetharan. They were taken away by the occupying Sinhala soldiers and handed over to TID for further 'interrogations'. The youth were from Koozhaa-mu'rippu, Oddu-chuddaan in Mullaiththeevu district.
TID operatives detained 28-year-old Amuthakaran Thurairasa from Vanni, working at Kommaanthu'rai, Uduppiddi in Vadamaraadchi. He was employed at a pharmacy run by his brother. White van squads were searching for him for a few days and he had been instructed to be present at the TID interrogation office at Naavalar Road in Jaffna. Now, he has been sent to Colombo for further investigations, according to the SL Police.
22 March 2014
Kanthalyan from Mannaar, a trader selling iron, was arrested by TID operatives during a search operation by the SL military at Vaddukkoaddai in Jaffna.
21 March 2014
The occupying Sri Lanka Navy soldiers arrested a fisherman from Ki'linochchi at Vangkaalaip-paadu in Mannaar and handed him over to the Sri Lankan TID operatives. He was residing in Chi'ruth-thoappu and was engaged in fishing at Vangkaa'laip-paadu.
A couple from Jaffna Mr Loganathan and Mrs Maheswary Loganathan, with their two kids, a 6-year-old boy and a 8-year-old girl, were detained by the TID from their residence at Sreeramapura Housing Scheme in Vavuniyaa.
20 March 2014
TID operatives who came in a white van brutally attacked 37-year-old Jeyaramesh Sabaratnam, a fish trader and a father of two, at Vettilaik-kea'ni in Vadamaraadchi East and 'arrested' him, Mary Canista, his wife has complained.

18 March 2014
34-year-old Jaseeharan Mylvaganam, a disabled ex-LTTE member, now employed at a bakery, was arrested by TID operatives at his house at Udaiyaar-kaddu in Mullaiththeevu district.
16 March 2014
A former LTTE member, his wife and children aged 6 and 10, have been detained by the Sri Lankan TID at Moogkilaa'ru in Mullaiththeevu.

13 March 2014
55-year-old Jeyakumari Balendran and her 13-year-old daughter Vipooshika Balendran were taken away after setting up an encounter-styled search operation at Tharumapuram in Ki'linochchi district. Jeyakumari, who has lost 2 men in her family was searching for the remaining son who is allegedly in the Sri Lankan military custody after the war in Vanni. She has been an activist mobilising the kith and kin of the missing persons in recent times.