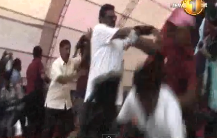 Minister Thondaman's act
On Thursday, our cameras captured footage of how a Cabinet Minister obstructed a journalist from carrying out his duties at the May Day Rally of the Ceylon Workers Congress.
The Cabinet Minister in question was the Minister of Livestock Development, Arumugam Thondaman.
This was the manner in which the Secretary of the Ceylon Workers Congress and Minister of Livestock Development Arumugam Thondaman obstructed a journalist (please
watch video)
who was covering the May Day procession and rally of the party in Bandarawela, from carrying out his duties.
Can a main road in the centre of the Bandarawela town be blocked in this fashion?
Can fences erected for the security of the town, be removed to construct the stage for the rally?
How justifiable is it for a leader who has been entrusted with the task of uplifting the lives of estate workers to act in this way?
Media organisations too commented on Minister Arumugam Thondaman's behaviour.
Working Committee Member of Tamil Journalists' Collective, R. Bharathi expressed his views on the issue:
As the Tamil Journalists' Collective we condemn this behaviour. It is normal for videographers to carry out their task at gatherings of this nature. If the videographer's work was disruptive in the view of the Minister or the organisers, they could have informed him and then removed him. But the fact that he was pushed and shoved away from there is distasteful in our eyes. At the same time we say that the Minister in question or a party official must respond to this.
Media Spokesperson of Tamil Journalists' Alliance, A. Nixon shared these views;Minister Thondaman attacked a journalist at the May Day rally held yesterday. When a Minister acts in this way, it is evident to us what the plight of democracy and media freedom in this country is. There is evidence of undue influence exerted on media freedom and media democracy in this country but no action has been taken against this as yet. A Minister cannot act in this way. As media organisations we condemn this behaviour.
Convenor of Free Media Movement, Sunil Jayasekera also expressed his views.
He said; "The whole world has seen how Minister Thondaman treated the journalist. This is an extremely despicable act. It is the journalist's duty to provide information to the people of this country