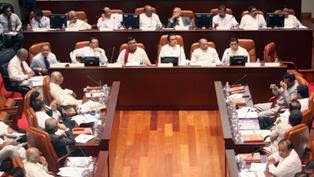 The Minister of Mass Media and Information Keheliya Rambukwella at the parliament yesterday (June 06) was careful not to reveal the identities of those who imposed an access control over 8 news websites.
He did not reveal information related to the particular matter when it was taken up in the parliament following a suggestion made by the General Secretary of United National Party (UNP),Tissa Attanayake, when the parliament was adjourned on May 26.
The particular suggestion cited that through imposing an access control over the news websites the rights enshrined in the constitution of Democratic Socialist Republic of Sri Lanka including the right to equality, freedom of speech and expression including publication, the freedom to engage by himself or in association with others in any lawful occupation, profession, trade, business or enterprise have been violated.
If the rights have been thus violated the Minister requested the victims to seek legal redress regarding it.
Joining the debate MP A. H. M. Azwer , who spoke on behalf of the ruling party, made a completely unrelated response and continued to praise the President and his family members.
Sri Lanka Mirror faced gravest injustice
Tabling the suggestion Attanayake stated that currently the government is indirectly manipulating the newspapers and electronic media and those which are not under their control such as Tamil Net, Lanka E News, Lanka News Web, Lanka Guardian, Sri Lanka Mirror, Colombo Telegraph, Jaffna Muslims and The Independent are censored.
He stated that Sri Lanka Mirror has followed the cabinet proposal and has registered the website in the Mass Media and Information Ministry. The website has been censored despite the measures taken by it to follow all legal instructions issued by the government,he said.
Therefore, 'Sri Lanka Mirror' has faced a grave injustice, he added.
He further stated that there is no prevailing law to censor websites and it is being done according to the needs of government bigwigs under an imaginary law.
In addition, access control has been imposed on, The Independent, a website owned by the Western provincial council candidate of his party Diana Gamage, there by the promotion of a political opinion has been disrupted, he said.