Image: DIG Deshabandu Tennakoon is considered as a close companion of national security Minister Admiral Weerasekara. 
Sri Lanka media collective has called on the government  consideration of indirect  the death threat made by Senior DIG in charge of the Western Province, Deshabandu Tennakoon  and to conduct a formal inquiry.
2021-07-03
Mr. Chandana Wickramaratne,
Inspector General of Police,
Police Headquarters,
Colombo.
Dear Inspector General of Police,
Re: Threatening responses to Tharindu Jayawardena by Senior DIG Deshabandu Tennakoon on Facebook
The attention of the Media Organisation's Collective has been drawn to the covert threat made by   yesterday (01st July 2021) on Facebook in response to a news item shared by journalist Tharindu Jayawardena.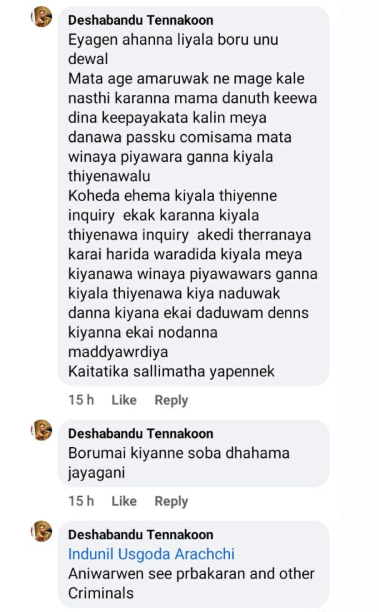 The related Facebook post can be accessed here
The senior DIG has repeatedly alleged that journalist Tharindu Jayawardena is publishing fabricated news items and this would result him from being punished by natural justice. The DIG had urged him to look into the consequence of Prabhakaran and other criminals as an example.
Deshabandu Tennakoon has not provided a definite answer when the journalist questioned him on what news item written by him was considered to be fabricated. However, on one occasion the DIG mentions that it was related to a story about the attack on Easter Sunday.
The news article in question is reported on www.medialk.com where Tharindu Jayawardena is the Editor-in-Chief of News website, the article can be accessed here
The source of the news item is the answer given by the Media Minister and Cabinet Spokesperson Keheliya Rambukwella to a question posed by Tharindu Jayawardena at the media briefing held at the Government Information Department on June 29, 2021. Considering the current landscape and recent events, we as a Media Organisation's Collective believe that the response of the Senior DIG's statements including 'Borumai kiyanne soba dhahama jayagani – Aniwarwen see prabakaran and other Criminals' indicates a serious threat and a covert warning.
Therefore, we call for a serious consideration of this matter and to conduct a formal inquiry into the responses given by DIG Deshabandu Tennakoon to journalist Tharindu Jayawardena in a backdrop where a majority of those who have been arbitrarily arrested and detained for allegedly publishing false news has not yet been formally charged in court. We also request that the safety of the journalist to be guaranteed in this situation.
Thank you.
Yours Sincerely,
for Media Organisation's Collective
Dharmasiri Lankapeli,
Secretary,
Federation of Media Employees' Trade Union
Seetha Ranjanee,
Convener,
Free Media Movement
Duminda Sampath ,
President,
Sri Lanka Working Journalists' Association
N.M. Ameen,
President,
Sri Lanka Muslim Media Forum
Kanapathipillai Sarvananda
Secretary
Tamil Media Alliance
Indunil Usgoda Arachchi,
Secretary,
Sri Lanka Young Journalists' Association.