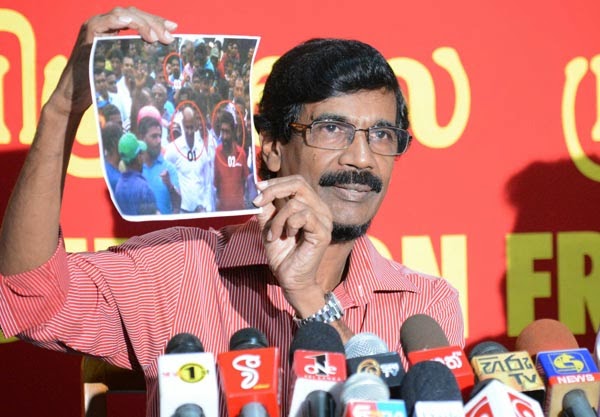 Tilvyn Silva showing evidence
The government closes universities to hold carnivals, while the master blaster has become a thug leader ripping open students' heads, said JVP secretary Tilvyn Silva. Speaking to the media in Colombo today (03), Mr. Silva condemned the attack on the previous day on Ruhuna University students by government thugs led by Sanath Jayasuriya. After digging his own grave, Mervyn Silva is now keeping silent, while his role has been taken over by Sanath Jaysuriya who is trying to dig graves for the students, said the JVP secretary.
They should protest not in front of the university, but in front of the home of minister Siyambalapitiya, who had decided not to hold Deyata Kirula at the campus premises, he noted.
What they want is to create disturbances and sabotage activities at the university, which they have already accomplished, as the campus has been closed indefinitely, said Mr. Silva.
Even after the closure, students are unable to leave the university, as the government thugs are waiting in ambush, he charged.
The law is not enforced properly in this incident, the JVP secretary stressed, adding that the CID should record a statement from higher education minister S.B. Dissanayake, who had threatened students and their parents to find places to hide.
The government has now fallen to the depth of repressing university students, working people and even MPs, which should be defeated, he said.
Demanding the immediate reopening of the university, he called upon all those who value democracy to rise up against this fascist government.