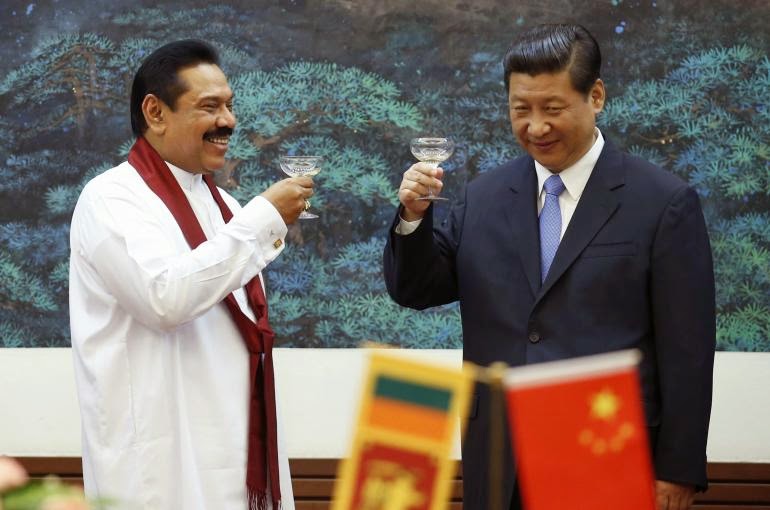 Sri Lanka's President Mahinda Rajapaksa
toasts with China's President Xi Jinping
It has long been suggested that the UPFA Government's signature fondness for unsolicited proposals comes from the generous fringe benefits they earn for some of its members. It is also speculated that Sri Lanka pays premium rates for its gleaming new infrastructure because prices are inflated to include massive kickbacks.
In a recent interview with the Sunday Times, Treasury Secretary P. B. Jayasundera did not deny that commissions are factored into project costs. He only said he did not know. While acknowledging the existence of agents — who commonly negotiate payoffs and have close ties with the few names that control this Government — Dr. Jayasundera stressed that "no commission guys visit this place" (the Finance Ministry). The logical question then is where do they go?
Documentary proof might be elusive but it can be reasonably surmised that somebody is earning fast bucks off Sri Lanka's development programme. Just take the statistics. As we reported in October 2013, the 26 km long Colombo-Katunayake Expressway cost the country Rs. 1.8 billion a kilometre. This is around double the cost-a-km of the completed 95 km stretch from Kottawa to Pinnaduwa on the Southern Expressway. The Colombo-Katunayake Expressway was built and funded by the Chinese with the Sri Lanka Government meeting a small percentage of the required capital. Its total cost was Rs. 45.7 billion.
By contrast, the relevant section of the Southern Expressway was funded by the Japan International Cooperation Agency (JICA) and the Asian Development Bank (ADB) at Rs. 96.8 billion. Do the comparisons tell a tale? The Treasury chief insists that the two projects are not comparable because the Colombo- Katunayake Expressway was built on marshy land and had several overpasses and bridges. But even after those factors are discounted, the price is inordinately high.
Future or ongoing highway projects, also awarded to the Chinese, are still more expensive. This newspaper carried a list of these projects last week. For instance, the 9.32 km-long Outer Circular Highway from Kadawatha to Kerawalapitiya is an ungodly Rs. 7.2 billion a km. A 26 km extension of the Southern Expressway to Matara and Beliatta will be Rs. 4 billion a km. A further 30 km extension of the Southern Highway from Beliatta to Wetiya costs Rs. 1.8 billion a km. At these rates, any Sri Lankan should justifiably be worried that unsolicited projects are sucking the country dry; and that somebody is evidently pocketing the difference between market price and project price.
It is not just the numbers that are exorbitant. When it comes to Chinese projects, Sri Lanka loses out in other ways. The contractor is Chinese, the machinery is Chinese, the technology is Chinese, much of the material is Chinese and many of those working on-site are Chinese. Even where there is leakage, it doesn't reach the locals — except perhaps, the commission agents and their political patrons. When Sri Lanka secures aid, it is perhaps understandable that the project contractor and other supplies are from the donor country. But where expensive loans are concerned, why must the same terms — and worse — apply?
The government argues that there is no other way to build vital infrastructure at the required speed. It has, therefore, created some rudimentary structures to handle unsolicited proposals but has essentially thrown open competitive bidding into the Hambantota Bay. Advertisements, deadlines, tender boards and committees take time. The layers have now been cut away and the process simplified.
But, with fewer cogs in the wheel, transparency takes a serious hit. Projects go through fewer approvals and fewer questions are asked. There is nothing to compare prices against. In the absence of streamlining and accountability, some proposals are passed faster than others. It is who you know that matters. All types of companies are now hawking goods and services to Sri Lanka unsolicited. The Indians are also here "in a big way" with their railway and power projects, among other things. Vast water supply projects are being implemented without open competitive bidding. The Government has sanctioned ports and airports, power stations and hospitals, hotels, resorts and casinos, communication towers, dams, technology parks and much more.
Worse, large purchases are increasingly and repeatedly made without tender. These include fuel supplies, rails and railway carriages, waste disposal units and incinerators, ambulances, fire-fighting equipment, water carriers, vehicles, computers and information technology systems, even cattle. All of these entail hefty kickbacks.
The law decrees that the details of these transactions must be declared. But there is no single database that offers the information in an accessible manner. Officials typically crawl into a shell when the words "unsolicited proposal" are mentioned. The public is ignorant of what projects are lined up and hears of them (in segments) only after Cabinet approval is granted. Ministers are found to be poorly informed or lackadaisical about what goes through their hands. There is certainly no discussion, vibrant or otherwise, in Cabinet about the merits and demerits of the initiatives of a select group of players.
The Government insists that the prices we pay are not unreasonable. It says that technical committees comprising professionals and senior government officials evaluate the proposals and decide prices. But in the absence of competing bids, how does one know that the terms one is evaluating and deciding upon are fair?
And how can one determine beyond doubt that the same goods, services and grand projects cannot be secured and implemented at cheaper rates? Do technical committees — that are under Government pressure to complete their task fast — take the initiative to contact other suppliers for price comparison purposes? Do they check on the internet and other available sources of information? And if they do, why are the prices still this steep?
Massive development programmes have been implemented before but never has the process been this porous. A sum of Rs.104.697 billion (at current prices) has been invested on the Mahaweli Programme from 1970 to 2011. Granted this was 20 years ago. Still, the Mahaweli Project was so colossal that it generated 500-600 megawatts of power, irrigated 360,000 acres and provided substantial downstream development for an entire population. The then Government followed procurement procedures, clear proof that even initiatives of such scale can be carried out with some degree of transparency if the essential leadership is provided. The internet is replete with studies on how unsolicited proposals and corruption go hand in hand.
In 2007, a World Bank funded working paper states that many unsolicited projects are associated with a lack of competition and transparency. It does not advocate a banning of unsolicited proposals. Instead, it states that, "At a minimum, a principle should be that all unsolicited proposals are channelled into a transparent, competitive process where challengers have a fair chance of winning the tender." But the Government is clearly in no mood for all this. It is going full steam ahead with unsolicited projects even though some of its recent efforts have become a standing joke in the country. It wants development 'at any cost' and to hell with the cost-benefit, or so it seems.