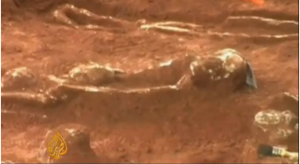 The country's rights record has also been marred by charges of extra-judicial killings in the 1970s and 1980
A mass grave found in Sri Lanka with over 150 skeletal remains dates back to a time when thousands of people disappeared during a crackdown on Marxist rebels, a forensics expert said Thursday.
Raj Somadeva said he had confirmed that the grave uncovered in the central district of Matale last November dated back to the late 1980s, the height of an insurgency by Sinhalese rebels.

"This grave cannot be older than 1986 and not newer than 1990," Somadeva, a professor of forensic archaeology at Kelaniya university, told AFP.
Somadeva was commissioned by magistrates to write a report on the mass grave which was unearthed during construction work next to a hospital in Matale, 140 kilometres (85 miles) east of Colombo.
Police spokesman Buddhika Siriwardena said they were awaiting further reports on the cause of death and other details of the victims.
Authorities had initially said it was a burial site for those who died at the hospital during World War II. But the Marxist JVP, or People's Liberation Front had maintained the victims were their members killed in the 1980s.
"The dating of the grave is crucial and it supports our claim that the victims had been killed during the uprising," JVP lawmaker Anura Dissanayake told AFP. "We want this thoroughly probed and perpetrators brought to justice."
Thousands of people disappeared during the JVP-led uprising between 1987 and 1990. Sri Lankan authorities have said that nearly 17,000 people were killed during the insurgency, a figure which includes rebels and their victims.
Government forces had crushed the rebellion by wiping out its entire political leadership by the end of 1989 and mopped up remaining activists by early 1990.
However, the JVP slowly re-emerged in 1994 and has since renounced its armed struggle and entered mainstream politics.
The insurgency by the mainly Sinhalese JVP was unrelated to the separatist campaign in the northeast by Tamil rebels. They were crushed by government forces in a no-holds-barred campaign which ended in May 2009.
Sri Lanka faces allegations of war crimes over the alleged killing of 40,000 civilians in the final stages of the Tamil war.
The country's rights record has also been marred by charges of extra-judicial killings in the 1970s and 1980s.
aj/co/sm
Sri Lankan mass grave dates back 25 years
MATALE, Sri Lanka (AP) — A judge announced Wednesday that more than 150 human skulls and bones recovered from a mass grave were buried there about 25 years ago, strengthening suspicion that they belonged to suspected Marxist rebels killed at the time.
Magistrate Chathurika de Silva told a court in the central town of Matale that tests show the skeletal remains found inside the premises of a government hospital dated to between 1987 and 1990. During that period, thousands of men and women suspected of having ties to the rebels disappeared after being arrested by security forces.
De Silva did not explain the cause of death but declared the mass grave a crime scene.
The military could not be contacted immediately for comment.
Workers found human remains while doing construction on part of the hospital land last December. The skeletons had been buried in neat rows, five or six stacked on top of one another totaling 154.
Claims were made initially that the bodies belonged to those killed in an epidemic in the 1940s or a mudslide. However, hospital authorities did not have any records off bodies buried on the premises.
The Marxist group People's Liberation Front, which led two uprisings, claimed that the bodies may belong to comrades killed by security forces. The bodies of many young men and women arrested by paramilitaries were found burning by the roadside or floating in rivers at the time.
The Marxists were mostly Sinhalese, the country's majority ethnic community.
Sri Lankan forces are also accused of killing scores of civilians and captured rebels at the end of a quarter-century civil war with ethnic minority Tamil separatists.
The United Nations Human Rights Council last week passed a resolution urging Sri Lanka to investigate war crimes allegations against both government forces and Tamil Tiger rebels.
Copyright 2012 The Associated Press. All rights reserved. This material may not be published, broadcast, rewritten or redistributed