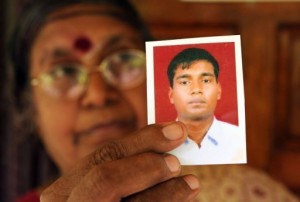 August 14, 2013 (AFP) – Sri Lanka's president Wednesday ordered a new investigation into the disappearance of thousands of people in the island's northeast during an ethnic war which ended four years ago.

The announcement comes just days before UN human rights chief Navi Pillay is due to visit the island, amid international criticism of Colombo's human rights record during the war against Tamil separatists.
President Mahinda Rajapakse appointed a retired judge to head a three-member panel to investigate "cases of persons from the northern and eastern provinces who went missing during the war", a statement from his office said.
"The president indicated that the inquiries are being conducted in the interest of public security and well-being and in order to determine what measures should be taken to prevent such incidents," the statement said without giving further details.
Sri Lanka has resisted international pressure for an independent investigation into war crimes despite what UN calls "credible allegations" of up to 40,000 civilians killed in the final battles in 2009.
Instead it has conducted a number of its own probes into disappearances and extrajudicial killings during the conflict, which have resulted in few prosecutions or convictions.
Sri Lankan troops declared an end to 37 years of ethnic war after wiping out the leadership of the Tamil Tiger rebels in May 2009.
Sri Lanka has maintained its forces did not kill civilians while battling Tigers who were known for suicide bombings.
A government survey conducted last year in the war-ravaged north said that nearly 8,000 people were killed during the conflict and another 6,350 were missing. International rights groups say the figures are much higher.
The survey also said that those killed included 550 children below the age of 10, but did not say who was responsible.
The UN's Pillay is scheduled in Colombo on August 25 for a five-day visit, during which she is expected to meet political leaders.
LB