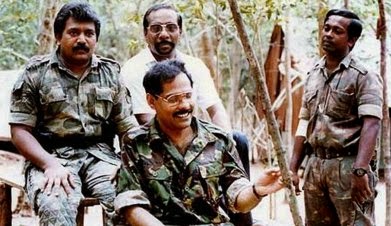 KP ( in front) with Praba and Bala
Charges listed against KP amended
KPThe charged under which an INTERPOL warrant was issued for the arrest of Kumaran Pathmanathan, better known as KP, have been amended. As of late last year the INTERPOL website said that KP was wanted by India over crimes, terrorism and the use of weapons and explosives. However most recently the charges listed have been amended and it now says he is wanted over criminal conspiracy, violation of the terrorist Act and violation of the Indian explosives Act.
KP, who is currently living in Kilinochchi, is wanted in India over the assassination of former Indian Prime Minister Rajiv Gandhi.
Pathmanathan was one of the top LTTE officials and ran a global network of LTTE offices which were engaged in its weapons procurement, logistics and money laundering operations.
Initially based in Malaysia, where he set up a shipping company in 1987, he was forced to move out after the Malaysian Special Branch cracked down on LTTE activities in the country in 1990, culminating in the seizure of an LTTE ship the same year.
Pathmanathan then moved to Thailand, which became a safe haven for the LTTE. There he established himself as the head of banking, procurement and shipping for the LTTE. He is believed to have obtained citizenship of Thailand.
Pathmanathan was the subject of a worldwide manhunt, which involved police from cities including Johannesburg, Rangoon, Singapore and Bangkok. Some of the world's foremost intelligence agencies, including the American CIA and British MI-5, were on his trail.
He was believed to have had bank accounts in London, Frankfurt, Denmark, Athens and Australia and over 200 passports for his use. In May 2011, he alleged that the United Nations and a western country worked to help many LTTE operatives escape from Sri Lanka.
Known as an elusive, secretive individual, he helped keep a low profile by having direct contact only with LTTE leader Velupillai Prabhakaran.
He was subsequently arrested and brought to Sri Lanka. KP is currently involved in humanitarian work in the north. (
Colombo Gazette
)