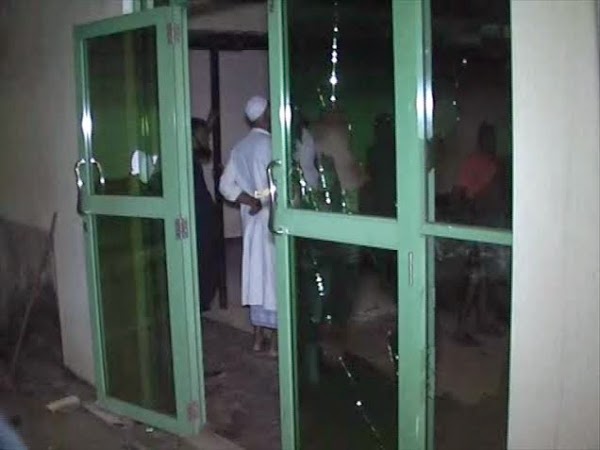 Mosque attacked
A tense situation occurred in Ibbagamuwa last night when a group, carrying swords and cricket bats, threatened Muslim shop owners in the area and damaged a mosque. M. Mohammed, a shop owner in the area. told 'Asian Mirror' that the group threatened Muslim shop owners with them and damaged a few shops. They had also assaulted a worker who was working for a Muslim owned shop in Ibbagamuwa.
They had then attacked a prominent mosque in Ibbagamuwa and damaged its glass door, eyewitnesses said. They also said the attackers came in a Three-wheeler.

Soon after the mosque was attacked, over 500 Muslims gathered around the mosque to protect their place of worship, creating a heated situation in the area. It was at this point that ASP Mahinda Dissanayake had visited the place along with several other senior officers and assured the crowd that the culprits would be arrested soon.
As a result of the assurance given by the senior Police officer, over 500 people who were protecting the mosque, dispersed.
Police anti-riot squads were also deployed in Ibbagamuwa yesterday to assist the Police in controlling the situation. Investigations are now underway to arrest those who damaged Muslim owned shops in Ibbagamuwa and damaged the mosque.
AM
BBS terrorists attack mosque at Dehelgamuwa and Muslim 3 business places at Ibbagamuwa

A Muslim mosque situated at Dehelgamuwa of Gokarella police division Kurunegala had been attacked a while ago by Bodhu Bala Sena (BBS) terrorists causing extensive damage. A group comprising about 50 of them armed with rods and clubs that came in vehicles carrying Buddhist flags have stormed into the mosque and inflicted grave loss . However the attempt to set fire to the mosque had failed. The police and STF have by now appeared on the scene.
Three Muslim establishments situated in Ibbagamuwa ,Gokarella police division , Kurunegala had also been attacked and destroyed just a while ago by Bodhu Bala Sena (BBS) terrorist group that came in vehicles with Buddhist flags, according to reports reaching Lanka e news.
Though there were heavy damage and loss resulting from these violence , there are no loss of lives. The SSP in charge of Kurunegala , Ajantha Samarakoon had gone to the area after the attacks were launched , police say.
LeN