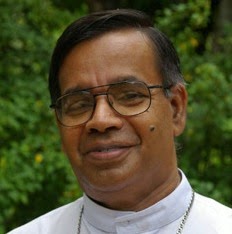 Bishop. Norbert Andradi
"However, as we were about to go to the Prison we were informed by the local prison authorities that Bishop Rayappu could not be permitted to enter the Prison unless they have orders from higher authorities in Colombo. I contacted Hon. Minister Ravi Karunanayake again who was to obtain the required permission for him. We waited for about three hours and since there was no reply Bishop Rayappu Joseph returned to Mannar. I sent in the Chaplin of the prison of Anuradhapura and he performed the religious rites. "
Letter sent by Bishop. Norbert Andradi, Bishop of Anuradhapura to Chief Justice , Mohan Peiris on obstruction of Bp Rayappu, Bishop of Mannar to visit the Tamil prisoners in Anuradhapura prison on Easter Sunday

Hon. Mohan Peiris
Chief Justice
Chamber of Chief Justice
Complex of the Supreme Court
Hulfsdorp
Colombo 12.

Your Honour,
This is to keep Your Honour informed of some events in relation to the Prison of Anuradhapura.Yesterday, being Easter Sunday I was to conduct the Easter Religious Services in the Catholic Chapel situated inside the prison complex of Anuradhapura.
Meanwhile, His Lordship Most Rev. Dr. Rayappu Joseph, the Bishop of Mannar hearing that I was due to celebrate mass there, desired to join with me and meet briefly the many Tamil speaking Catholics of the Diocese of Mannar who happen to be among the present inmates of the Prison.
With the consent of His Lordship, I contacted Hon. Minister Mr. Ravi Karunanayake and informed him of our intention. He, in turn, was to contact Hon. Mr. Chandrasiri Gajadheera and keep him informed of the planned visit. However, as we were about to go to the Prison we were informed by the local prison authorities that Bishop Rayappu could not be permitted to enter the Prison unless they have orders from higher authorities in Colombo. I contacted Hon. Minister Ravi Karunanayake again who was to obtain the required permission for him. We waited for about three hours and since there was no reply Bishop Rayappu Joseph returned to Mannar. I sent in the Chaplin of the prison of Anuradhapura and he performed the religious rites.
What I learned was that the local prison authorities appeared to have been fairly excited over this proposed visit which to some extent I could understand. We learrn that they appear to have given many instructions to the Tamil inmates that they should not speak to him for too long, not give him any letters or anything in writing, etc., etc.
What disturbs me personally is to see that the prison authorities appear to have so much to hide which they would not want others to know and find out. On Palm Sunday and Good Friday, most sacred to Christians, the female inmates had not been permitted to attend the religious services calming an absence of some security personnel. I have reasons to believe that there is quite a bit of harassment and ill-treatment of some of these inmates amounting to the violation of their basic human rights including their fundamental religious rights. We would thereby be only repeating the past errors giving way to creating new terrorists.
I thought of sharing this information with you. I also understand that these problems are much more complex than they appear. I am prepared to be guided by any advice or suggestions you may have.
Thank you.
Bishop Norbert M. Andradi.
Bishop of Anuradhapura.
cc. 1. His Excellency S. Palitha Fernando, Attorney General, Attorney General's Depatemnt, Hulftsdorp, Colombo 12.
2. Justice Priyantha Perera, Chairman, Human Rights Commission, 165, Kynsey Road, Colombo 08.
3. His Lordship Most Rev. Dr. Rayappu Joseph, Bishop of Mannar, Bishop's House, Mannar.