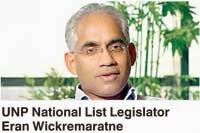 Eran drops bombshell in P'ment over public finance
No evidence of Parliamentary control over finance, says Eran
UNP MP charges Article 148 has been violated in Legislature for four years
Claims bloating public sector stifling private sector growth, projects incorrect picture of unemployment figures
Recalls Budget proposals presented by NM and Ronnie De Mel
Says no clear-cut economic plan in UPFA Budget 2014
The main Opposition United National Party yesterday condemned the Government's policy to overcrowd the public sector, a move that was in turn stifling the private sector and said there had been no evidence of Parliament's control over public finance during the life of the current legislature.
UNP National List Legislator Eran Wickremaratne said the Government's solution to Sri Lanka's unemployment problem was providing State sector jobs and exporting citizens to work in insecure and exploitative environments overseas.
Productive job growth can only be established by extending incentives to the private sector, Wickremaratne said.

"There are 1.4 million Government employees. One third of these are with the police and security forces," the UNP MP revealed in the House.
"You're essentially distributing relief and donations to State employees from this Budget. This is not a budget. What does it do to improve industries and increase production?" he charged, joining in the Budget debate.
Wickremaratne said a budget should have a clear-cut economic plan, which is absent in the UPFA's 2014 economic policy statement. "Mahinda Chinthana was launched some years ago, promising various dreams. This Budget is a continuation of those dreams – they are unrealistic and will never come true," he said.
The UNP Legislator recalled how he had had the opportunity to listen to former finance ministers like Dr. N.M. Perera and Ronnie De Mel who had presented budgets that comprised serious discussions about education, health, economy and finance.
"There is no such discourse here," Wickremaratne said.
Wickremaratne said that although Article 148 of the Constitution ensures Parliamentary authority over public finance, after four years, he was yet to see evidence of such authority being exercised.
"The Appropriation Bill 2013 was taken to the Supreme Court, which held that Parliament approval is required prior to State borrowing. But the Government has violated this ruling using their 2/3 majority and has also removed the Chief Justice illegally and unceremoniously. COPE has 31 members but only three to four members are present at any given time. This is the same with other committees," he charged, highlighting the violation of the Constitution.
Wickremaratne charged that 50% of the Budget was being allocated to the Rajapaksa family. "There are 102 Ministers and Deputy Ministers in Parliament. They are allocated 50% of the total Budget and the rest allocated to the Rajapaksa family. At this rate, it will not be long before private properties are confiscated," he said.
By Ashwin Hemmathagama
FT