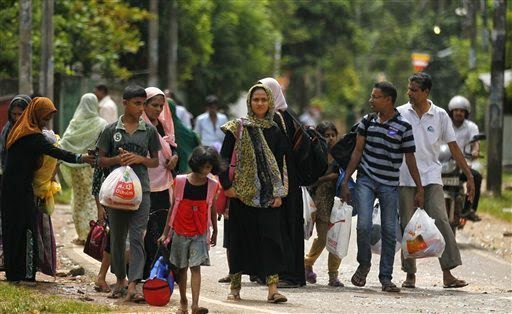 Feeling for safety, Muslims in Aluthgama
Justice Minister and Sri Lanka Muslim Congress leader Rauff Hakeem last night called for "an independent and transparent inquiry" into the incidents in and around Aluthgama. He said that such an inquiry would determine not only who should be held responsible for the events, but also as to who allowed or encouraged religious zealotry. "If that process requires my incarceration as a probable offender, I offer myself willingly to the due process,'' he said in a statement.

He also said:
"I am deeply disturbed by some of my good Sinhala friends who while expressing their sympathy for the plight of my community, have been honest enough to express their displeasure at what they perceived as my attempts to internationalise the current problems faced by the Muslims of Sri Lanka.
"This very valid refrain by my moderate Sinhala friends, deserves an explanation. First and foremost, let us agree on the one inescapable reality of the second decade of the 21st century. In this age of information, ignorance is only possible only by choice. Communications transcend borders both instantly and irretrievably.
"As the leader of the SLMC, when I am asked to respond to a question, I cannot help but provide an honest appraisal of reality on the ground, however inconvenient it may be, to the sensibilities of those who believe that information already in the public domain can somehow be manipulated."Irrespective of who is responsible for the terrible events that unfolded in the Aluthgama, Beruwala, Dharga Town, Welipitiya and Welipenna areas and the attack on the Panadura 'Nolimit' garments store last night, none would dispute that it was a serious dislocation of the ability of the state to maintain the rule of law. That the rule of law was a matter of public debate in the country for some time is an inconvenient, vexatious but a real concern that we must address ourselves.
"While perceived religious differences are the cause of the immediate crisis, let us not remain oblivious to the deep undercurrents of a neo-fascist movement that has grown beyond its embryonic stage.
"Now, my party is being accused of subscribing to jihadists. Why should we be surprised? Any student of modern history knows about the Reichstag Fire. Just as the vagrant who was found responsible for setting fire to the temple of democracy in Berlin by Hitler, fascist elements never rest in their search for scapegoats to invest them with responsibility for their horrible crimes.
"The Muslims of Sri Lanka have enjoyed the benevolence of ancient Sinhala kings who allowed us to practise our faith in an integrative spirit. Today, those pristine Buddhist traditions of tolerance are supplanted by a new cult of civic pedagogy that is saffron in colour, fascist in content, economic in purpose. How else could a perceived affront to a Buddhist Prelate be appeased by meticulous and methodical destruction of Muslim-owned-business enterprises?
"As a commercial brand 'Nolimit' can be mutilated or burnt. Ignorance and arrogance can also have no limit."
ST