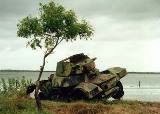 His Excellency the President Mahinda Rajapaksa dismissing calls for a probe on the last five days of the conflict, stressed that the Government is ready for an investigation of the entire terrorist conflict while addressing a gathering at Maligawatte on 24th March.
"I am prepared to do a full scale investigation into the entire terrorist conflict, and not just the last five days," the President stressed. "Some elements called for a probe from Year 2000 upwards with hidden motives and objectives in mind," he said.
The President added that the elements who want to give protection to some group, are calling to probe into Sri Lanka from 2000 upwards.
He said that the Government eliminated terrorism that plagued the entire country for the wellbeing of people of all communities and the Government takes the responsibility for the eradication of terrorism from the country.
The President added that he will not be perturbed over what was happening in Geneva against Sri Lanka, as long as the people are with the government. "Public support is always with the Government," he said.
President Mahinda Rajapaksa stressed that the Government always works for the well being of the people and the country.
The President added that Sri Lankans have been living in peace and harmony for a long time.
He said that nobody talked about religious harmony when hundreds of Buddhist devotees were killed on the Sacred Jaya Sri Maha Bodhi premises.
"Nobody talked about religious harmony when hundreds of Muslims who were butchered d by the LTTE while praying at the Kaththankudi Mosque," the President added.
"These elements are talking about religious harmony, when Sri Lanka is being discussed in Geneva," the President said.
He said all these attempts are targeting Geneva. The President said that some elements are conspiring to obtain overseas support to defeat the Government, which is making vast strides on the path of development in the aftermath of terrorism.