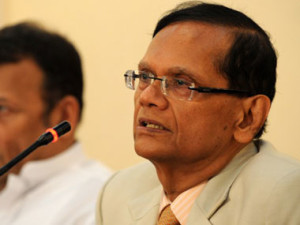 "Sri Lanka is not stalling,"
Peiris told The Associated Press
New York: Sri Lanka's foreign minister said his government has no case to answer over the reported deaths of thousands of civilians at the end of its civil war, even as pressure grows for an international inquiry to account for the dead.
The U.N.'s top human rights official said last week that Sri Lanka needs to show progress by next March or the international community should establish its own inquiry into allegations of civilian casualties and summary executions in the final months of the quarter-century conflict that ended in 2009, when government forces crushed ethnic Tamil rebels.
Speaking on the sidelines of the U.N. General Assembly on Monday, Foreign Minister G.L. Peiris defended the government's efforts in probing reported abuses by security forces, and said a commission of inquiry appointed by Sri Lanka's president in August to investigate disappearances would report back after six months. Sri Lanka's foreign minister GL Peiris.
He contended that the Geneva-based U.N. Human Rights Council and Western nations were discriminating unfairly against Sri Lanka as a result of disinformation circulated by Tamil separatists overseas, and were demanding quicker action on accountability than they had of other countries that had been through tumultuous conflicts, such as the former Yugoslavia and Cambodia.
"In no other post-conflict situation has there been this intensity of pressure in such a short period of time," he said.
A panel of experts appointed by U.N. Secretary-General Ban Ki-moon reported in 2011 that as many as 40,000 civilians were killed in the final five months of the war — a figure Peiris dismissed as pure conjecture. The experts concluded most died as a result of indiscriminate shelling by the Sri Lankan military as it closed in on the Tamil Tigers, who had waged a ruthless battle for an ethnic homeland in the north of the island.
The government has estimated about 9,000 people perished in those months. Peiris said as the war neared its end, the British and French foreign ministers had urged President Mahinda Rajapaksa to halt the offensive against the cornered rebels because of concerns for an estimated 300,000 Tamil civilians with them. Peiris said those Tamils had been used as human shields, and the Tigers had gunned down those that sought safety on the government side, so the president decided to press on. "If he had called it off, the war would still be going on. How many thousands more would have been killed? That's the situation. You ask me if that's a case to answer. I tell you, categorically not," Peiris said.
After international prodding, Sri Lanka conducted its own review of the war which essentially cleared government forces of wrongdoing although it did highlight some evidence of possible military abuses that warranted further investigation. Peiris, a lawyer, highlighted the indictments of 12 members of an elite police unit in connection with the 2006 deaths of five Tamil students in the coastal town of Trincomalee as sign of the government's willingness to act when there is adequate evidence to prosecute a case.
But a U.S.-backed resolution at the U.N. Human Rights Council this March "encouraged" Sri Lanka to more thoroughly investigate alleged war crimes committed by both sides in the conflict. And the diplomatic pressure is likely to increase after U.N. human rights commissioner Navi Pillay said last week that without tangible results by March 2014, including prosecution of perpetrators, "the international community will have a duty to establish its own inquiry mechanisms." Pillay's statement followed an acrimonious visit to Sri Lanka, during which several top government officials accused her of bias in favor of Tamil separatists.
Pillay is a South African of Indian Tamil origin. Her spokesman accused the officials of an "extraordinary array of distortion and abuse." Peiris joined in criticizing Pillay, saying her remarks that Rajapaksa's government was heading "in an increasingly authoritarian direction" amounted to political interference.
He also complained that Sri Lanka does not get credit for its "singular achievement" of eradicating the threat of terrorism and bringing peace. Since the war ended, Rajapaksa has accumulated growing authority. Term limits for the presidency have been abolished, and he has greater control over appointments of judiciary, police and elections officials.
The controversial impeachment in January of the chief justice raised further questions about separation of powers. Two of the president's brothers are powerful Cabinet ministers. Another is parliamentary speaker. The government has recently won some international praise for staging provincial council elections in northern Sri Lanka that were swept by a Tamil party — a step toward devolving power. Peiris said it showed Rajapaksa was not authoritarian. AP
FP