The Ranil Rajapaksa government has curtailed the rights of the unpunished persons and civil prisoners in remand through a gazette notification issued on July 12th 2022.
As per this gazette notification, visits of prisoners from out side persons are limited to  once a week. Prior to this, visitors were allowed to have visitors  every day of the week.

Generally in Sri Lanka an unpunished prisoner on remand are allowed to spend between 6 and 8 hours a day outside the cell.
Also, the time spent outside of the cell in which such a un punished remand prisoner or a civil prisoner is kept is limited to one hour per day. That for the exercises.

The gazette notification also states that the civil prisoner can get separate rooms and necessary furniture on payment of money.

It also allows prisoners to be employed at private establishments.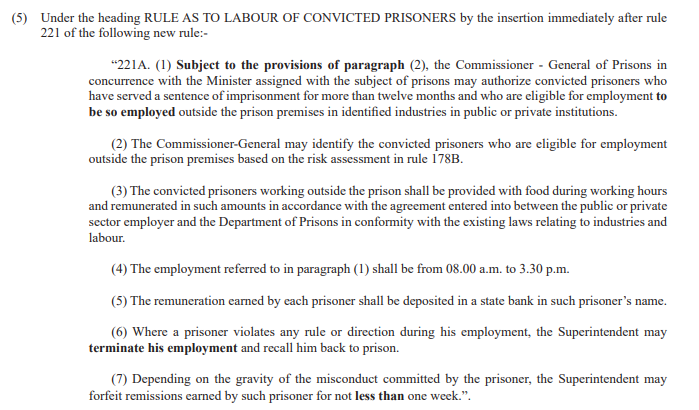 The gazette has been issued by Dr. WIJEYADASA RAJAPAKSHE, Minister of Justice, Prison Affairs and Constitutional Reforms, under section 94 of the Prisons Ordinance (Chapter 54).
Ranil Rajapaksa's administration has taken another step in repressing rights, political sources say.
The gazette: Prison rules changed 2288-15_E