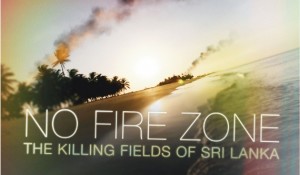 In a strange move the Government of Sri Lanka send a letter to the President of the UNHRC on the first day of the 22nd session calling for censorship within the UN premises. In two page letter GoSL said that the GoSL strongly protest the use of the premises of UN for the screening of this film, No Fire Zone produced by the Channel 4. The film is a documentary on the alleged war crimes that has taken place during the last phase of the war in Sri Lanka.
Human Rights Watch plans to show the film on coming Friday at a side event.
In 2012 GoSL organised a side event and showed its own film, a responses to Sri Lanka Killing Fields by the same TV station Channel 4.
The letter sent by the GoSL, in theory calls for a total ban on all critical literature related to member countries of the UN.
It says that " the timing and vane of this screening clearly demonstrates that it is aimed at influencing the debate in the council on Sri Lanka. It is therefore our earnest view that the Council should not facilitate such a process that undermines its own work and the engagement of its members with the Council, and leaves it vulnerable to politicization."
The meaning of side events are of course to create a open discussion on related issues and influences the decision making process in a transparent way. If the GoSL wants to ban such activities, then thee will be no use of civil society participation in the UNHRC, a leading Sri Lankan Human Rights Defender told SLB.
Read the letter sent by the GoSL as a
PDF
.