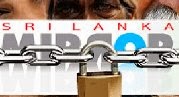 Internet Service Providers in Sri Lanka have blocked direct access to the website – 'Sri Lanka Mirror'.
The site has been blocked since this morning (May 12) and on inquiring from the ISPs they have informed us the website has been blocked after the Telecommunications Regulatory Commission (TRC) informed them to do so.
Though attempts were made to contact the Director General of the TRC – Anusha Palpita on this regard, we were informed by his secretary that Mr. Palpita was currently overseas and would be returning on May 17.
Accordingly, we have directed a formal correspondence to him with copies forwarded to the President, Opposition Leader, Minister of Media – Keheliya Rambukwella and Defence Secretary Gotabhaya Rajapaksa.
A copy of this letter is shown below.
This is not the first time Sri Lanka Mirror has faced such a situation.
On November 05, 2011, we were suddenly blocked by the ISPs of the country on the regulations of the Telecommunications Regulatory Commission (TRC).
However, we legally challenged this measure and on Dec 15 2011, the Supreme Court ordered to lift the access control imposed on the website.
Afterwards, 'Sri Lanka Mirror' obtained a license as a registered news website from the Ministry of Mass Media and Information in accordance to regulations introduced in 2012.
On June 29th, 2012, the Criminal Investigation Department (CID) raided our office located on No. 71, Ferry Road, Ethul Kotte, Colombo, arresting five journalists (namely Srilankamirror editor Kelum Shivantha, photographer Ajith Seneviratne, journalists Shiranthani Manawadu, Himashi Karunaratne and Tharindu Rajapakse) and office assistant R.W. Premawathi.
In addition, Subhash Jayawardena and Siddique Kariyappar – two journalists of srilankaxnews.com – which was functioning from a different storey of the same building were arrested as well.
Ms. Premawathie was released later in the night while the others were released on police bail on June 30.
They were charged of violating Articles 115, 188 and 120 of the Penal Code. However, by then, the Article 118 was already nullified by the Amendment Act No. 12 of 2002.
On September 18, 2013, Colombo additional magistrate Prasanna Alwis ordered the release of Sri Lanka Mirror and Srilankaxnews journalists, until such time notice is issued on them to appear before the court again.
However, the arrested staff of Sri Lanka Mirror and Srilankaxnews filed Fundamental Rights petitions citing that their right to freedom of expression and to engage in a profession of their choice in accordance with clauses 13-1, 14-1(A) and 14-1(G) of the constitution have been violated.
The FR petitions are still being heard in the Supreme Court