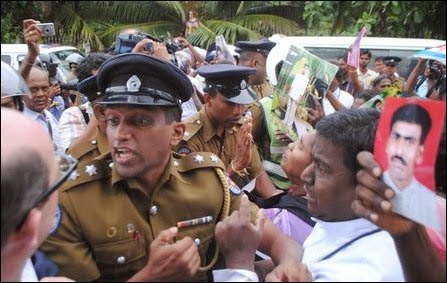 Policein Jaffna ( file photo)
If EU can why cant we asks military
Hitler ltteThe Ministry of Defence (MOD) and military says if countries like those in Europe can ban even the salute of former dictator Adolf Hitler then there is nothing wrong in Sri Lanka banning commemorating the LTTE.
Military and MOD spokesman, Brigadier Ruwan Wanigasooriya said that last weekend the authorities had prevented events being staged in the north which could be seen as glorifying the LTTE.
He however insisted that there were no raids on any newspaper office or any other institution as was claimed by some Tamil political parties in the north.
"There was a security operation in the north but we did not surround a temple or any location or raid any newspaper. We only acted to prevent any event from being held to commemorate terrorists," he said.
The MOD spokesman said that in some parts of Europe using the salute of Adolf Hitler could put such a person in jail as legally even such acts are banned.
"If Hitler's salute is banned in Europe why should we allow room for terrorism in Sri Lanka. There is no need to allow that," he insisted.
The army and police last Sunday prevented war remembrance events from being held at public places in the north. The Tamil National Alliance however accused the army of blocking people from going to the Temple to commemorate Tamils killed during the war. (
Colombo Gazette
)