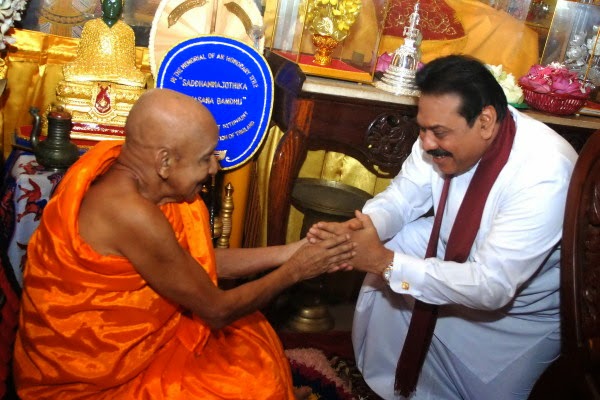 Chief Incumbent Asgiriya Chapter
The government should do away with the 13th Amendment to the Constitution, without succumbing to the pressures exerted by India, the Asgiriya Chapter said yesterday.
Committee Member of the Asgiriya Chapter, Medagama Dhammananda Thera, calling the 13th Amendment the root cause of the country's… … international bedlam, said initiatives should be taken to prepare a draft Constitution to be presented to Parliament, whilst simultaneously opening it up for public debate.
"The 13th Amendment has not been able to achieve national unity. It has instead precipitated international pressure, particularly from India, through force applied by South India. It has also given birth to the money guzzling Provincial Council system and caused disharmony among the different ethnic communities. We must, as a country, remain independent. We do not need to do everything that India says in the manner they suggest as they have their own political agendas."
The Thera also referred to the 13th Amendment as an amendment forced on Sri Lanka by India's former Prime Minister, Rajiv Gandhi. He added that police and land powers should not be given to the Northern and Eastern Provinces, while the powers of the Executive Presidency and the Cabinet should be reduced.
"Because we are stuck with the 13th Amendment, it is hindering our forward momentum," he claimed.
The Thera also blamed the UNP for not only representing international viewpoints, but also for shirking their responsibilities by not taking part in the Parliamentary Select Committee (PSC), hiding behind the excuse of the TNA's boycott of the same.