Issuing a statement, on the land mark judgement against bribing votes during the lection time   the Executive Director of PAFFREL Rohana Hettiarachchi has said that said the court ruling is a reminder that bribing the voters at future elections will result in the perpetrator losing the seat.
Further it says that it is important to note that implementation of Right to Information Act has paved the way for procuring information  for this victory.
1978 constitution abolished the by-elections as it introduced a 100% preferential electoral system. Even in this case in the place of unseated member, another member, who is in the list of candidates contested  from the same party will be pronounced elected.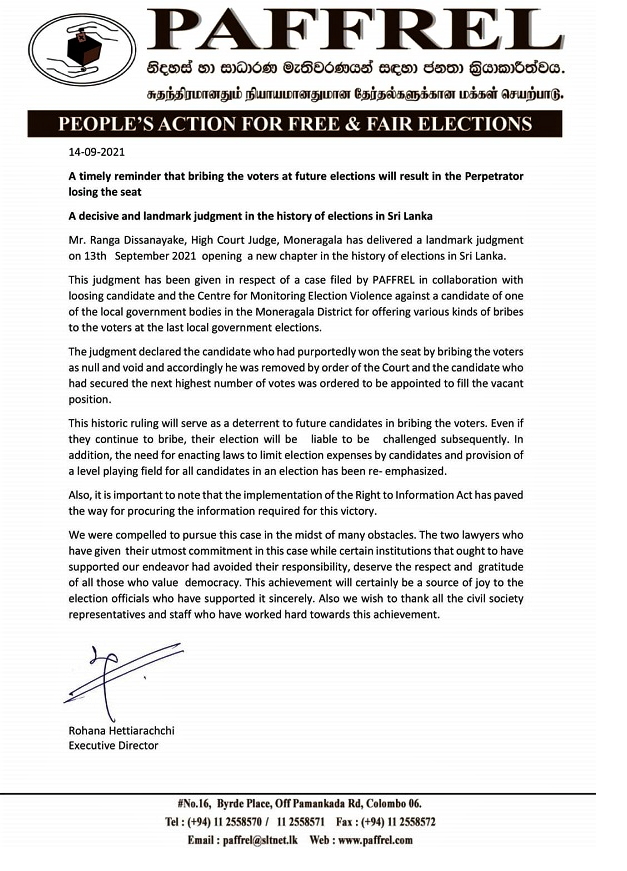 A Sri Lanka Podujana Peramuna (SLPP) member, D.M. Harshaka Priya Dissanayake has been disqualified as a member of the Monaragala Pradeshiya Sabha,after it was proven that he had bribed voters to obtain votes at the elections.
Judgment was delivered  by High Court Judge Ranga Dissanayake.
A petition had been filed by United National Party (UNP) candidate Wanasinghe Mudiyanselage Shantha, in collaboration with election monitoring organisation PAFFREL  claiming that he was at a disadvantage due to bribes offered by the rival member.
Dissanayake was accused of paying for electricity and water connections, distribution of dry rations, and also distributing liquor asking voters to vote for him at the elections.
The petitioner had obtained the relevant evidence through Right to Information applications to prove his case, while several of those who were given bribes too were cited as witnesses.
Taking up the case for hearing, High Court Judge Ranga Dissanayake held that it was proved that the SLPP member had offered various types of bribes to obtain votes to be elected from the Madurakeiya division.
The Judge further said Dissanayake has been disqualified as a member of the Monaragala Pradeshiya Sabha.
The SLPP member has a six-week period to appeal in the case, failing which he will stand disqualified.
(With the inputs from NewsWire)