[Sri Lanka's finance minister Ravi Karunanayake. Photo: AFP]
Minister pulls up Colombo Port City company; says Xi Jinping sprang a surprise by telling Sirisena that China, Lanka and India should work closely in f
PBOC to further ease yuan capital controls in reserve currency bid Oracle to hire 1,000 sales staff in Asia-Pacific, including mainland China and Hong Kong
Cannibalisation the only way to beat cheaper competitors, says professor Hainan Airlines to buy 30 Boeing 787 Dreamliners for up to US$7.7 billion
Li Ka-shing's conglomerate agrees to HK$118 billion takeover of Britain's O2 mobile network
The Chinese company involved in the controversial US$1.4 billion Colombo Port City project has failed to furnish the necessary documents within the two-week deadline set by the new government, which is also reviewing other Chinese projects including a high-profile telecommunications tower, Sri Lanka's finance minister said yesterday.
In an exclusive interview with the South China Morning Post, Ravi Karunanayake also said President Xi Jinping surprised the Sri Lankan President Maithripala Sirisena on Thursday when he said China would like to have India as an important component of regional cooperation.
Karunanayake, in Hong Kong for a day to address the Credit Suisse Asian Investment Conference before heading for the Boao Forum, said the row over the stalled Colombo Port City project should not deter Chinese investors as Sri Lanka is only trying to ensure a business-friendly and clean atmosphere by cleansing a system that had become "deeply corrupt" under the former president, Mahinda Rajapaksa.
"We are telling Chinese companies that we are keen to have clean, transparent accountable investment. Port City should not be the benchmark. There are serious problems with that project that we are trying to fix. It has nothing to do with our attitude to Chinese investment."
Promoted by state-owned and Hong Kong-listed China Communications Construction Co (CCCC), Colombo Port City has become a bone of contention between China and Sri Lanka. The new government headed by Sirisena, who defeated Rajapaksa in January's elections, put it on hold earlier this month alleging large-scale irregularities.
The finance minister maintained the company did not have the requisite clearance from the government and had failed to come up with the documents to show that it was given the go-ahead to start the project.
A top executive of CHEC Port City Colombo, a subsidiary of CCCC contracted to undertake all reclamation and infrastructure works for the project, had earlier told the Post on condition of anonymity that the company had submitted all documents on March 9. It was served the suspension notice and set a two-week deadline on March 6.
Requests for comment from CHEC failed yesterday.
President Xi had urged Sirisena to protect the legitimate interests of Chinese companies when they met on Thursday, Xinhua reported. Sirisena, according to the report, said the current situation with Colombo Port City is "temporary and the problems do not lie with China".
Taking a dig at CCCC, Karunanayake said: "They run full-page advertisements in newspapers justifying their actions, but when we tell them to submit documents, they draw a blank."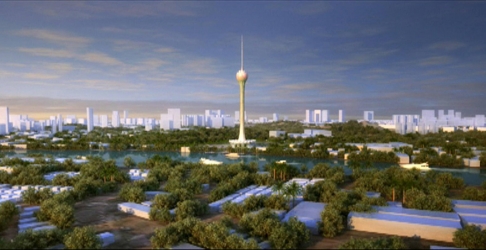 Funded by China, the 350-metre tower is to be the tallest in South Asia. Photo: SCMP Pictures
The finance minister has been tasked with renegotiating the billions of dollars Sri Lanka borrowed from China to finance infrastructure projects. The new government is struggling with the debt it has inherited, which now stands at 88.9 per cent of the gross domestic product, compared with 78.3 per cent in 2013.
The International Monetary Fund this month rejected a request by Colombo for a US$4 billion loan to restructure debt repayments on Chinese loans.
"The people should not be made to pay for sins of the past government. We have urged the Chinese to look at the loans compassionately," said the minister, who refused to divulge the status of debt negotiations with Beijing.
Karunanayake said the government is also re-examining Lotus Tower, among other Chinese-backed projects. Funded by China Exim Bank, the US$103 million tower – 26 metres taller than the Eiffel Tower and the tallest in South Asia – is being executed by China National Electronics Import and Export Corporation and Aerospace Long-March International Trade.
"There was overinvestment and we are examining if it can be done cheaper," he said.
On talks between Xi and Sirisena, he said: "The Chinese president took us by surprise when he said China, India and Sri Lanka should all work together to avoid any suggestions of regional animosity."
India is sensitive about China's growing engagement in its neighbourhood, especially since two Chinese submarines docked in Colombo last year.
"Xi said why don't we get India to work with us, which was seized upon by President Sirisena, who said that would be the best possible outcome. Both presidents agreed that India should be part of the equation."
Debasish Roy Chowdhury
[email protected]
This article appeared in the South China Morning Post print edition as Sri Lanka fires fresh salvo at Chinese firm