We are coming to the end of a year that was the worst since Independence. There have been other tragic and horrible years but none as horrible as this. Undoubtedly, it has been the worst year economically. We are on the brink of bankruptcy.
Severe shortages
It was a year of severe shortages. The year was punctuated by shortages of essential food. It was a year of soaring prices of basic necessities. There were shortages of rice, sugar, milk powder, wheat flour, bread, gas, kerosene and petrol.
Strikes and demonstrations
It was a year of mass demonstrations and strikes. Education that was already disrupted by COVID-19 was paralysed by the extended strike of teachers. Doctors, nurses, port workers, postal and railway employees, among others, struck work from time to time crippling the economy.
This year of strikes and work stoppages has been aptly described as one on the kotauda or a country which was in a condition of 'always break down.' These aggravated the hardships of people. The petrol price hike at year's end is a further boost to the high inflation in the country this year.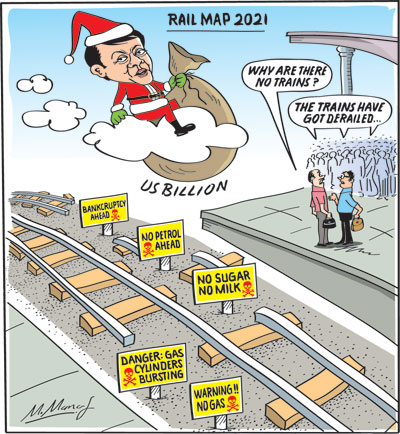 Econ-cartoon
Household security
As if to underscore the difficulties people had to undergo, the year ends with the horror of cooking gas    cylinders exploding in homes.
Destroying agriculture
The massive blow to agriculture, especially food production, is a monumental folly. 2021 will be long remembered as the year when the country's agriculture was ruined by a hasty, unscientific and foolish decision to ban chemical fertilisersand agro-chemicals.
The country that transformed itself from a rice dependent country for a population of seven million at independence to one of near self-sufficiency in rice for 22 million was once again made dependent on rice imports this year. And that at a time when it has no foreign currency.
Rural livelihoods
The disruption of agriculture by this faulty move has not only affected the country's food production, it has ruined rural livelihoods. Food security of a large proportion of the population is threatened by a short supply of food and inaccessibility to food due to high prices and low incomes.
Tsunami
Today is the 17th anniversary of the tsunami. Seventeen years ago on this day the country faced the worst natural disaster in its history. An estimated 35,000 people lost their lives. Others their houses and livelihoods. Large number of children were orphaned.It was the worst possible natural disaster that could have ever happened. Yet, paradoxically, it was an economic windfall.
Economic crisis
Like today, but not as severely, the country was facing a crisis in her external finances. Providentially, this horrendous human tragedy became an economic rescue, as large sums of money came pouring in from all parts of the world.
Individuals, non-government organisations (NGOs), governments and international agencies poured in massive amounts of money. The external reserves swelled. The economy was saved by this human tragedy.
Other disasters
There were other national catastrophes. The 30-year LTTE insurgency and civil war were other horrendous calamities. More recently. The 2019 Easter Sunday bombings was another human tragedy and economic set-back, and then COVID-19 adversely impacted the global and Sri Lankan economy.
Horrible 2021
As the year is coming to an end, I cannot recall a year as horrible as this in my life time of more than eight decades. Although the post-independence period nearing 74 years has had many episodes of fear, terror, ethnic violence, insurrections, a thirty year civil war and a horrendous tsunami exactly 17 years ago in 2004, the year that is ending has been the worst year of economic deprivation. It surpasses the 1970-77 period of severe scarcities.
Economic crisis
2021 is ending in severe economic difficulties and deprivations as never before with shortages of food and essentials, cooking gas, electricity disruptions and no light at the end of the dark tunnel. The prospects for the New Year that dawns in five days looks even bleaker than what we have experienced this year.
External finances
The nation's external financial vulnerability is threatening. There is hardly any need to convince anyone of the hardships faced by people this year. They have worsened rather than improved. The year ends with enormous shortages and essentials and fear of explosions in homes. The root cause of this is the lack of foreign currency. Foreign reserves have fallen to around US$ one billion.
Conclusion
The year is ending with the prospect of the nation being declared bankrupt unless some foreign assistance comes within the next few weeks. In as much as the year that is ending was catastrophic, the year that is to dawn is one which is likely to be worse unless we obtain foreign assistance and drastic policy changes are effected.
This 21st year of the 21st century is not one of the worst years for the country, it was the worst. It was an annus horribilis more horrible than any other.
(ST)